Baseball Knights defeat Caldwell in thrilling 10-inning duel
For the first time in five years, the West Essex Baseball Knights defeated the Caldwell Chiefs on May 3. The Knights fought until the end in a hard-fought game on Caldwell's senior night. After finishing the seventh inning tied 4-4, the game had three extra innings. The Knights put up an extra run in the 10th inning to close out the Chiefs, 5-4.
Aydan Sorrentino, Chris Murano and Devin Fogg all pitched exceptionally to give up a minimal amount of hits, leading the Knights to victory. Sorrentino started off the game pitching the first six innings, Murano followed in the seventh and Fogg closed out the Chiefs until the bottom of the tenth inning to prevent a Chiefs comeback. 
Fogg, a junior captain, attributed his team's performance from a relentless offense.
"We were able to put pressure on the defense by putting a lot of balls in play and being aggressive on the base paths," Fogg said. "Our pitchers were able to attack the zone and shut down the strong Caldwell offense."
Sophomore, Max Garcia, hit a single in the top of the 10th inning to get on base and in scoring position for the Knights. After a sacrifice bunt and an error made by the first baseman of the Chiefs, Garcia made it to third and a bunt by Chris Murano allowed Garcia to make his way home to put the Knights up 5-4.
"A lot of batters came through in tough spots and our base running was also very key to our success," Sorrentino said. "Clutch hits and well executed bunts helped us win the game."
A match between the pitching and hitting allowed for the Knights to dominate on both sides of the game. Garcia, Luke Friedman, Caden Lozito, Sorrentino, Shaun Bertonaschi, and Joe Panzarino, all had hits to contribute to the win. 
With another win under their belt, the Knights look forward to finishing their season on a great note. The Knights play again today at home against Montclair Kimberly Academy at 4 p.m. Head Coach Joe Cardinale said he's proud to see his team continue to work hard and was thrilled to see them take home the win.
"The Caldwell game motivated and inspired us to play better baseball than we have been prior," Cardinale said. "It kind of springboards us into our county and state tournaments coming up."
Behind the Byline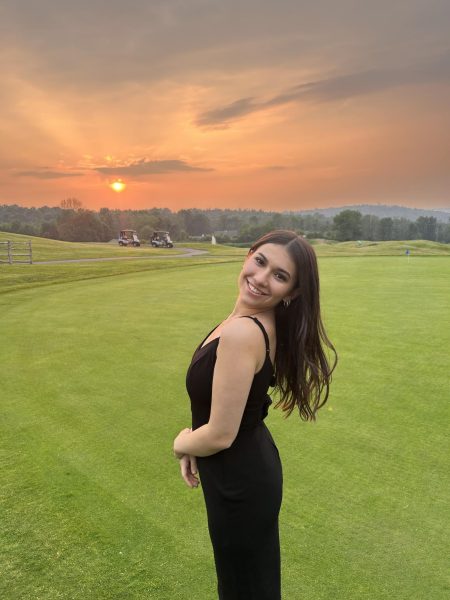 Chloe Berger, Sports Editor
Chloe Berger is a Sports Section Editor for the Wessex Wire. She enjoys spending time with her friends and family, dancing, and traveling. Her favorite food is penne vodka and her favorite singer is Taylor Swift.