West Essex alumni take head coach slots for 2 varsity sports
As spring sports seasons kick off, two varsity programs welcome back familiar faces to their coaching staff – both West Essex alumni. Business teacher Joe Cardinale is the new head coach for baseball, and Gianna D'Urso, a Newark public school teacher has been tabbed as the new girls' lacrosse head coach.
Cardinale played baseball at West Essex, and graduated in the Class of '03. He was a varsity coach for over a decade for both Cedar Grove and Montville High School. Cardinale said he saw his opportunity to return to West Essex for this school year after the position opened up in the fall, and immediately applied. 
"The baseball position opened up right before the holidays," Cardinale said. "Coaching baseball was something that I've always done and love to do, so when the job opened up, I applied for it, and it worked out."
Cardinale himself played baseball for West Essex 20 years ago. He raves about the program, and said he wants to maintain the team morale throughout the coach transition..
"My hope is that over time here, I can build a program with a really positive culture that helps shape young men," Cardinale said. "Then, hopefully I'll help them develop skills and abilities that'll help them off the field later in life."
Cardinale opted to only assign one senior captain for this season, citing his wish for players to earn leadership positions rather than have them by default.
"I don't necessarily think leadership is something that is entitled; just because I assigned you a captain doesn't make you a leader," Cardinale said. "I want our entire team to be empowered to be leaders in their own way." 
Coach Cardinale looks ahead with high hopes for the rest of his first season as head baseball coach at West Essex. He wants the team to take the season step-by-step, improving more and more as they go.
"I expect us to compete one pitch at a time, every game," Cardinale said.
Baseball isn't the only West Essex sport seeing a new head of the program this spring season. Gianna D'Urso, a Newark public school teacher and West Essex alumni, has been tabbed as the new girls' lacrosse Varsity Head Coach.
D'Urso served as interim head coach in 2021 while previous head coach Bettina Plesnitzer was on maternity leave, so she has experience with the seniors and juniors in the program. She has served  in the program for the past several years, understanding the legacy of the program. She wishes to continue its winning culture and inspire women to work hard.
"I want to continue to build upon the winning culture that has been instilled in the program, as well as inspire young female student athletes to strive to be their best and work hard everyday," D'Urso said. "We want our girls to have a positive experience where they can not only grow in the game of lacrosse, but in the game of life."
Behind the Byline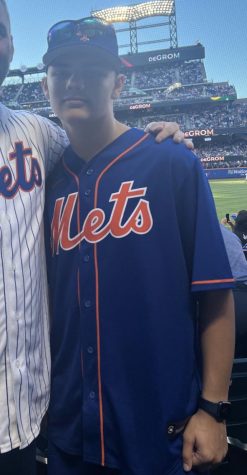 Ryan Conway, Sports Editor
Ryan is a Sports Editor for the Wessex Wire (Class Of '24) that likes sports and video games. Usually raging about the Mets or Jets, Ryan enjoys bonding with friends and family, and discussing sports with others.