Eras Tour exceeds our 'Wildest Dreams'
After months of anticipation, outfit planning, impatient setlist speculation and rapidly increasing excitement, Taylor Swift kicked off the Eras Tour, her first tour since 2018. Since her November concert announcement, millions of fans have been counting down the days until March 17, her opening night in Glendale, Ariz. With videos from Swift's first shows filling social media feeds, fans are left mesmerized by the production and her overall performance, some even saying it is one of the best tours to hit the stage.
The concert, which is over three hours long, includes 44 songs, many more than most modern artists commonly sing in one performance. However, some were slightly confused by the absence of fan favorite songs from albums like "Speak Now." Fans anticipated performances of beloved hits such as "Last Kiss" and "Haunted."  There seemed to be an unbalance between most streamed songs and the songs that longtime fans really love. Some of the more basic songs that were played, "Shake it Off," "I Knew You Were Trouble," and "You Need to Calm Down," are definitely not what Swift's active listeners were most excited to hear. Yes, they are fun to sing along to, but many of the hits that devoted fans hoped to hear were omitted such as "Long Live" and "Teardrops on my Guitar." But, because of how large her fandom is, there was hope that she would know which songs the fans were wishing for the most.  Now, some are wondering if the setlist will change for future shows. Either way, her fans are simply looking forward to a night that will let them nostalgically relive the eras of Taylor Swift. Which so far, is exactly what they are getting regardless of its minor critiques.
I think there definitely should have been more songs from her favored albums in exchange for the basic songs that she performed. As a "Speak Now" stan, I am disappointed with the hits  that aren't being played. I think that she could have left out some of the songs that everyone has heard a million times, and focused on the more recent preferences from fans. However, nothing will make me less thrilled to see her put on an extravagant performance.
When Swift first announced a tour that would include songs from all her various albums, the world was taken by surprise. Swift has only rerecorded "Fearless" and "Red" so far, so when the unexpected news that she would be play the songs she wrote when she was just a teenager on tour was announced, "the crowds went wild!"
On opening night, Swift christened Arizona as "Erazona." No one knew what she had up her sleeve, but the countless outfit changes, seamless shifts between her albums and the addition of surprise songs certainly caught the fans by surprise. Hearing which two "surprise" songs Taylor uses to stun the crowd with each concert is exhilarating. So far, fans were slightly disappointed by the absence of hidden gems and underrated songs, so the surprise songs were much-needed additions. Swift has also started to slightly change parts of the setlist. Fans were ecstatic when they heard that she swapped two songs from "Folklore." She has been playing "The 1" since March 31, which is certainly a crowd pleaser, instead of "Invisible String," an anthem which is less admired by some fans. These little changes are valued by fans, giving us the chance to experience different songs than what we have already seen all over social media. 
Swift surpassed the high expectations for this tour, well aware of how to put on an exhilarating performance. The energy Swift and her supporters create in the stadium was like no other. With replications of iconic outfits and subtle Easter eggs, her day-one supporters were put into a dream-like state. No one knows what Swift will do for the remainder of the tour, but these next few months will surely be an unforgettable experience. There's no doubt that this "mastermind" has a variety of surprises strategically planned for the future.
Behind the Byline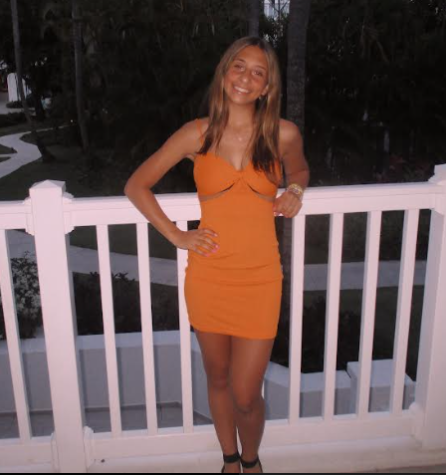 Logan Goldstein, Visual Media Editor
Logan Goldstein is a sophomore apprentice editor at West Essex. She loves Taylor Swift and loves to play soccer!