Annual tricky tray returns for the most successful year yet
This Sunday, West Essex's annual Tricky Tray fundraiser is back and sophomores are gearing up to make it as successful as possible. The Class of 2025's class council has been organizing tickets and making baskets to donate to this event. All proceeds go to the Class of 2025's future activity funds.
The Tricky Tray is composed of hundreds of prizes varying all the way from Nothing Bundt Cakes' desserts to hotel rooms in NYC. The class council has spent their time gathering businesses and restaurant's donations to make over 150 prize baskets. Sophomore class president, Sam Bronsnick, shares the many prizes offered this year.
"There are coupons and gift cards from local restaurants and businesses such as Guerrieros, Forte and many more," Sam Bronsnick said.
Sophomores are raising money for upcoming events including prom, color days and senior ball. Last years students, who were a combination of two classes, raised over $22,000. Every ticket purchased offers an opportunity to win a prize and pushes the sophomores closer to their fundraising goal.
"We have collected a lot of cool prizes and this event will help us raise money to help our class enjoy all of our future senior activities," sophomore class treasurer Molly Trauman said.
Students and parents of sophomores have been working hard for months to create an exciting fundraiser that engages the West Essex community. 
Amanda Fernicola, WE Connect teacher and sophomore student council advisor, has been working alongside parents and the council to help assist in the organization of the event. Fernicola has been able to operate, what seems to be, another smooth-sailing year of the Tricky Tray.
"The committee has worked hard to have a diverse offering of prizes including a MacBook Air, iPads, event tickets and much more," Fernicola said. "The event is well attended by the community and is a fun day for everyone."
Come test your chances at winning an abundance of prizes and support the Class of '25 this Sunday, March 26, in the West Essex Middle School Gym. Doors open at noon and the drawings start at 2 p.m.
Behind the Byline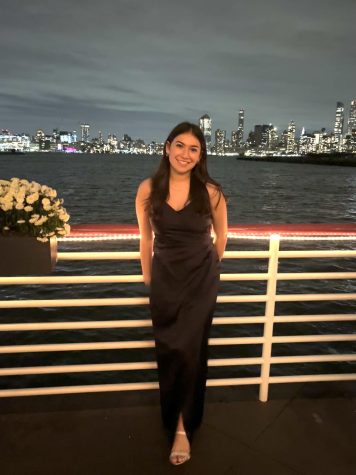 Chloe Berger, Apprentice Editor
Chloe Berger is an apprentice writer for the Wessex Wire. She enjoys spending time with her friends and family, dancing, and traveling. Her favorite food is penne vodka and her favorite singer is Taylor Swift.