Review: HBO's "The Last of Us" is a masterpiece that questions morals
Since the dystopian entertainment era of the 2010s, including popular titles such as "The Hunger Games," "The Maze Runner," "The Walking Dead" and "Divergent," most post-apocalyptic films and shows have felt tacky and dull. But HBO's series adaptation of the acclaimed PlayStation game "The Last Of Us" doesn't feel overused, but creates a new, enticing side to these thrillers through its focus on human nature and ethical struggles. It is not just a story about zombies (referred to as the infected) – it's one about the emotional distress and evil that take over during catastrophic times. A truth that we know all too well after the past few years.
The show starts off in 1968 with a discussion about the potential threat of cordyceps, an insect-pathogenic fungus that cannot infect humans due to its inability to survive at 98.6 degrees. But with global warming, these cordyceps might just adapt to withstand higher temperatures. And in this scenario, they do. Flashing forward to the night the world fell apart, Joel, a single father played by Pedro Pascal, loses his daughter to a non-infected military personnel. Compared to almost every other zombie-focused film or show, many of "The Last of Us" deaths are ironically not from bites, a detail that makes the plot that much more enticing. 20 years and full mental spiral later, Joel crosses paths with Ellie, an orphan played by Bella Ramsey, who seems to be immune. After twists, turns and even more tragedy, it becomes Joel's job alone to transport Ellie across the US in hopes of saving the world. Although Joel is quick to turn a cold shoulder to the 14-year-old, going as far as referring to her as "cargo," the two quickly form an unbreakable bond that heals both of their wounds. 
Craig Mazin and Neil Druckmann did such an exquisite job at creating a realistic, complete storyline that the series barely had to veer away from the game. The raw narrative covers thrilling suspense, love, morality and grief that doesn't seem like an apocalyptic-based game. It was these writers who made the perfect dystopian tale, the perfect one for HBO to bring to life. In fact, the parts of the storyline that don't even mention the infected became the most effective in creating an exhilarating and heart-wrenching adaptation. These scenes are what make the show so memorable – and possibly the best series of 2023. Viewers are forced into questioning the value of a single life and what can and cannot be excused as a trauma response. In the realistic world of "The Last of Us," there is no clear good or bad. 
But HBO didn't stop at replicating the storyline. Producers quoted direct lines and went as far as detailing weaponry and costumes. The position of the cameras and scenery in certain clips directly correlate with cut scenes from the game. For any player, the series was bound to create feelings of deja vu.  
But one of the biggest tasks of recreation is casting. It is easy to formulate physical props and include quotes in a script. But you can't construct a character with a specific look and personality into a live-action series. Somehow, it feels like HBO did. 
No one could have asked for a duo better than Pedro Pascal and Bella Ramsey to represent Joel and Ellie. Not only do the duo's individual talents shine, but their chemistry is undeniable in every representation of the father-daughter-like relationship. Ramsey's perfect rendition of a brutal murder filled with rage and defeat was Emmy-worthy, expressing every ounce of emotion and pain that follows the trauma she had experienced. Pedro Pascal's talent has never disappointed, and his performance as Joel has proven him to be one of the greats- after exquisite performances in "Game of Thrones," "Narcos," "The Mandalorian" and more. The breakdown of his tough shell is evident from one episode to the next. The tone he created through a light chuckle at a joke and the monumental two-word turning point, "baby girl," show Pascal's ability to shine a light on the significance of these small moments.  
Adaptations have always been a slippery slope. Long-time fans of books, or in this case games, are quick to criticize films or shows for not being an exact replica of their favorite story. But HBO has received such positive feedback for their dedication to honoring the original that a second season was confirmed just three episodes in.
Behind the Byline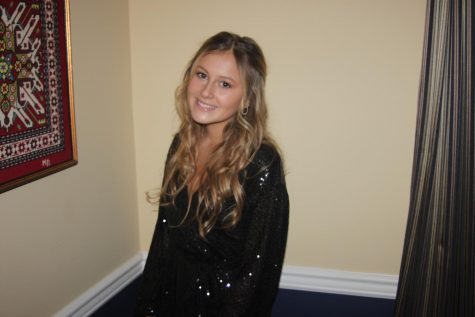 Brooke Murphy, Editor in Chief
Brooke Murphy is a 2022-2023 Editor in Chief for the Wessex Wire. She enjoys spending time with friends and traveling with her family. Brooke also plays lacrosse for the school and her favorite show is "The Office".