Damar Hamlin: A story bigger than football
On Jan. 2, Buffalo Bills safety Damar Hamlin went into cardiac arrest during Monday Night Football and was escorted to the University of Cincinnati Medical Center. He was then transferred to the Buffalo General Medical Center/Gates Vascular Institute and eventually discharged on Jan. 11. 
During the game against the Cincinnati Bengals, Hamlin took a hard hit while tackling Bengals wide receiver Tee Higgins. Although he immediately stood up at the end of the play, Hamlin quickly collapsed to the ground. He was taken off the field in an ambulance, and the game was postponed and ultimately canceled. 
Hamlin went into cardiac arrest, was given CPR for several minutes on the field and was placed in critical condition upon his arrival at the hospital. In the following days, Hamlin made remarkable steps in the recovery process, and according to a tweet made by the NFL, his first communication with doctors came through writing on Jan. 5.
"Did we win?" Hamlin wrote. 
"Yes, Damar, you won. You won the game of life," the doctors said in response.  
His recovery progressed steadily, and Hamlin made several tweets supporting the Bills during their crucial game against the New England Patriots in Week 18. In poetic fashion, Bills running back Nyheim Hines returned the opening kickoff for a touchdown, and the Bills went on to win 35-23. Hamlin returned to the Bills' facility on Jan. 14, but he would still need to continue healing at home. 
Support for Hamlin poured in on social media, spreading with reposts and merchandise. A sense of unity was created, not only throughout the National Football League and its fans, but around the whole world of sports. Stadiums everywhere were lit up in Bills colors to represent Hamlin, and his toy drive fundraiser raised over $8 million dollars in donations. 
Hamlin was not only represented by his Bills teammates in Week 18, but also by his former high school  teammate and Indianapolis Colts defensive back Rodney Thomas. Thomas intercepted a ball during his match up against the Texans, and after the play was over, he brought the ball to the 30-yard-line, where he placed it on the 3 outlined in Bills red and lifted a heart shape with his hands.
---
"2018 Dr Pepper ACC Football Championship #ACCFCG" by TigerNet.com is licensed under (CC BY-NC-ND 2.0)
Behind the Byline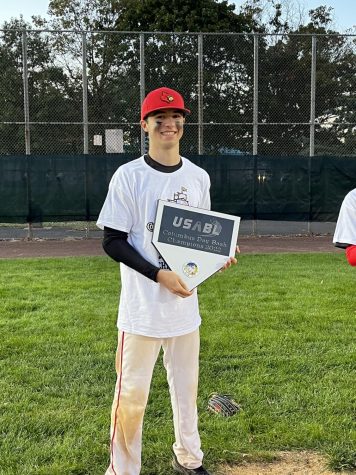 JJ Rella, Sports Editor
JJ Rella is a 2022-2023 Sports Section Editor for the Wessex Wire. When he isn't doing something baseball related, usually he's spending time with his family or friends. But most of the time he's watching sports, cheering on the Yankees or Seton Hall. He also has a driven passion for music, listening to Tyler, the Creator, Drake and more.