Successful start impresses N.J. Devils fans
Devils players featured in exclusive interview with the Wire.
The New Jersey Devils are having a breakout season that fans have been anticipating for the past decade. Fans flood the Prudential Center, lighting a fire under their favorite team's success. To open off the season strong, the Devils defeated the Edmonton Oilers to tie the franchise's 13-game winning streak record. The sold out crowds passion electrified the moment even more.
"It honestly feels great," captain Nico Hischier said after the win, in an exclusive interview with the Wire. "It is something nobody is going to take away. Winning feels good, so it's definitely fun." 
The last time New Jersey kept a winning streak alive for 13 games, that group of Devils would go on to play for the 2001 Stanley Cup. This balanced group of hockey players is showing great potential of recreating history. 
"They're balanced, four lines, six defense, two good goalies— three good goalies when Mckenzie comes back," former Devils Hall of Fame goalie Chico Resch commented on this 2022 group. "We're not going to fall; this isn't like some teams have talked heavily. We just got four lines and the defense." 
So far the Devils have limited their losses so far this season, proving themselves to be the winning team fans have been desperate to support, including the West Essex faithful. 
"I have total faith in this team," senior and Devils superfan Luke Osur said."The Devils are always buzzing on the ice and firing shots from everywhere. Hughes, Hischeir and Bratt are without a doubt leading the Devils to the cup." 
Soaring to the top of the Metropolitan Division, the Devils have been dominating their competition. Contribution from their heavily young lineup has proved this team's a commanding force in the league. Jack Hughes, Jesper Bratt and Nico Hischier have all already tallied over double digit goals this early in the season, making their offense promising for eager fans. 
"The Devils are young and hot," senior Andrew Adams said. "They are the fastest team in the NHL and a future powerhouse of the league with young speed and raw talent." 
Fans from all over New Jersey have been searching for the team to bring home the Stanley Cup for the first time since 2003. The surging talent from the youthful group of Devils has not only enticed, but kept the hopes and spirits high for die-hard fans.  
Behind the Byline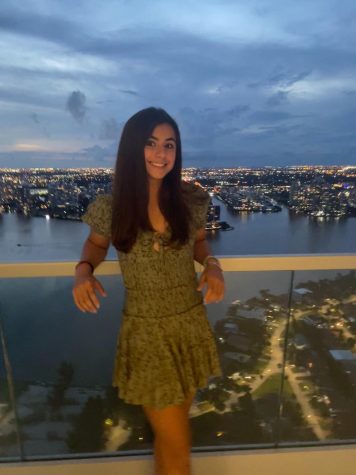 Jordan Cohen, Senior Chief Sports Editor
Jordan Cohen is a  2022-2023 Sports Editor for the Wessex Wire. She loves to play tennis, basketball, and lacrosse for the school. Jordan also enjoys hanging out with her friends, watching Netflix, especially two of her favorite shows "Grey's Anatomy" and "The Vampire Diaries".