Student by day, rockstar by night
Junior Trey Wakeshima creates music with a purpose to inspire.
At 8 years old, Saturday mornings usually consist of pancakes while tuning in to reruns on Disney and Nickelodeon. But for junior Trey Wakeshima, breakfast was served with a side of classic rock. 
Wakeshima's first exposure to this genre, which became the greatest influence on his pursuit of music, came from his father, who himself learned to play the guitar at 12 years old. After consistently jamming out together in their kitchen, Wakeshima was bound to follow a musical path similar to his father's. There was one difference: the instrument that would lead the way.
"[My dad] took me to go see the Foo Fighters before Taylor died," Wakeshima said. "That was the first rock show I had ever seen. I saw him up there playing the drums and I was like, 'I want to do that.' So that Christmas, he bought me a drum set."
After honing in on his skills, the two joined forces and began working together on cover music. When the COVID-19 pandemic hit and quarantine left them isolated, Wakeshima and his father took advantage of their extensive time together. The two ventured into original work until finally announcing their band, Priley, via Instagram on Oct. 18, 2020. Featuring a fun punk rock vibe with self-professed "goofy lyrics," it's no surprise that their announcement post was just a photo of their band name spelled out in edamame beans.  
Priley released their first single, "Little Orange Man," just a few days after the post, one out of eight songs that made up their first self-titled album, which they released in December 2020. The pair has consistently released an album every year since then, with "Globulence" in 2021 and "Bad Coffee" this November. The father-son duo creates a rare dynamic that intertwines Wakeshima's young and more modern view of music with the expertise of his father's years of experience. 
Even after forming a punk rock band as a freshman in high school, Wakeshima did not stop there. His musical tastes branched out and he fell in love with pop indie music by artists like Cavetown and Chloe Moriondo. Although the hardcore music he grew up on still holds a special place in his heart, he says, Wakeshima's venture into indie rock provided him with a new wave of opportunity. He found that, as compared to the fast, loud and ironic aspects of Priley, the genre had a greater lyrical focus. 
"Their lyrics can mean something to lots of people at once," Wakeshima said. "It's a much more serious idea. You know, we're all bonding with the same sort of struggles with mental illness, the same struggles of love and issues with being minorities. So, I wanted to do that myself, and I knew I couldn't accomplish that with Priley."  
After playing around with a random name generator and taking inspiration from Nirvana's first album, Wakeshima's stage name, bleachpuppet, was born, and his time came to start making music on his own. While creating a song, Wakeshima works almost in reverse, writing the lyrics after he formulates a guitar part. He likes experimenting with alternate guitar tuning, using open tuning to get more of a driving, midwest emo-meets-folksy sound.
"Once I have that guitar part, I sit there, and I try to work out a melody for myself," Wakeshima said. "And usually, when the melody happens, I don't have lyrics. It's me singing gibberish."  
Once he sits down to write, Wakeshima draws on his own life, putting himself into the lyrics to add a personal touch while also trying to relate to a larger audience. Not only does Wakeshima write the music and lyrics, he's also in charge of the entire production process. For bleachpuppet's upcoming album, he records all of the vocal tracks and instruments in his home studio. Over the course of several weeks, Wakeshima layers and records new clips to create flawless transitions and harmonies. 
"I'm not coming with all of the songs fully written to a studio and recording like a lot of other artists are," Wakeshima said. "There is a certain element of writing on the fly that I think really adds to the music."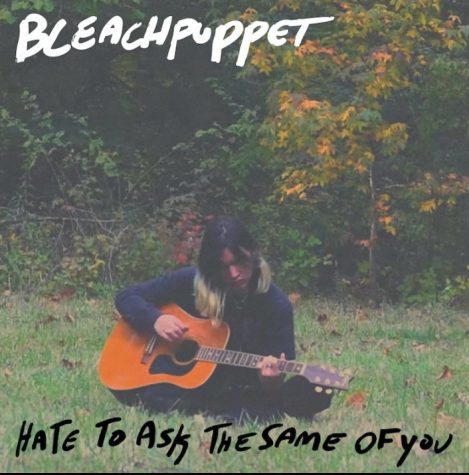 His first single as bleachpuppet, "hate to ask the same of you," released on all music platforms on Nov. 13, and Wakeshima gave live audiences at West Essex a taste of it Nov. 3 at the Fall Showcase coffeehouse and poetry fundraiser from National English Honor Society. The song has a mostly vocal focus, with the instrumentals composed mostly of acoustic guitar. Wakeshima's voice is deep and slightly raspy, giving off a '90s sound that can best be compared to Kurt Cobain's use of vocal fry, a technique that adds a sense of intensity and scratch to a low tone. The guitar parts, which Wakeshima says he took influence from the midwest emo genre, add a more folksy and indie vibe to the song. The crossing of different genres through the vocals and instrumentals tie together nicely to create a unique sound.  
The single "vacancy" released Dec. 4 and bleachpuppet's full album, "another resignation" will be dropped on all platforms on Sunday, Jan. 15. With nine tracks, the record starts off with "not the only one," perfectly encompassing Wakeshima's aspirations for the album, and what drove him to venture into a career as a solo artist. 
"I hope that the music I release in bleachpuppet can be a sort of shoulder to cry on for a lot of people around the world," Wakeshima said. "I want people to connect with the message in it and realize, yeah, life can suck sometimes, but you're not alone."
Behind the Byline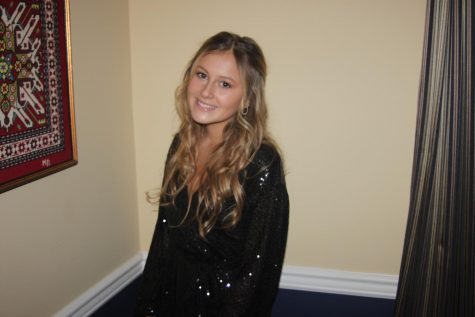 Brooke Murphy, Editor in Chief
Brooke Murphy is a 2022-2023 Editor in Chief for the Wessex Wire. She enjoys spending time with friends and traveling with her family. Brooke also plays lacrosse for the school and her favorite show is "The Office".