Field Hockey Knights finish on top for fourth consecutive season
The field hockey knights triumphantly lifted their fourth consecutive state championship trophy high in the air after their victory against Point Pleasant Boro on Nov. 12. The 5-0 win capped off a historic season by solidifying their spot as No. 2 in New Jersey and reaching new heights through a No. 8 national ranking. 
It was domination from the opening seconds to the final whistle as Point Pleasant Boro only attempted two shots on goal compared to 20 from West Essex. Junior Abby Zanelli finished the game with two saves. Sophomore Sophia Sisco and senior Cielle McInerney led the Knights in scoring with two goals each. 
The Knights cruised through the NJSIAA Tournament without a sweat, finishing without a single ball hitting the back of their cage. The Knights mirrored their stellar defense by scoring 36 goals, making for a dominant point differential against some of the state's best teams.
"[The defenders] stick to a game plan," head coach Jill Cosse said. "They know what they have to do, and they had to figure out how they were going to do that against any kid with any skill set." 
The field hockey Knights' potent offense played a huge role in propelling the team to major successes as well. The team's two leading scorers during the season were seniors Gianna Macrino and McInerney, who both finished with 37 goals. In total, the team had five players score in the double digits this season, including freshman Adelaide Minella, who ended her first season with 29 goals. 
 "We had six kids with double digits in goals and assists, which was unheard of in the state of New Jersey," Cosse said. "And when we stopped scoring at eight goals, you realize the magnitude of those numbers is really incredible." 
Looking back at the field hockey knights' regular season, it was just as impressive. The team started off with an eight-game win streak and finished the regular season with 3 losses, all of which had a score differential of only two points. Some of the standout wins come from their contests against Oak Knoll and Greenwich Academy (CT). 
Consistency is key for the program. Despite losing seven seniors after last season, six of which had started since their freshman year, Cosse still found a way to put together a top-tier team, as she has throughout her 25 years at West Essex. The key is not just on the field, but what goes on outside of it. Not only do the Knights work year round preparing, but have built connections with each other beyond their time on the field. 
"[The team] all starts posting three or four days after the season ends, all of these little pictures on Instagram," Cosse said. "Almost every picture is someone embracing, hugging or celebrating a goal or a denied ball going in the cage. If you could just take the summary of those pictures, that's what I'm going for." 
Behind the Byline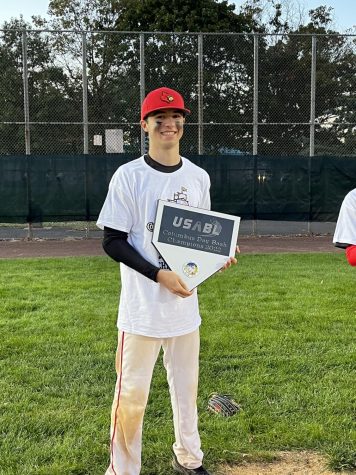 JJ Rella, Sports Editor
JJ Rella is a 2022-2023 Sports Section Editor for the Wessex Wire. When he isn't doing something baseball related, usually he's spending time with his family or friends. But most of the time he's watching sports, cheering on the Yankees or Seton Hall. He also has a driven passion for music, listening to Tyler, the Creator, Drake and more.