WE alumna assists with Fla. disaster relief
West Essex Class of '15 graduate Steph Spero had the opportunity to help children and families affected by Hurricane Ian in early October as part of a nonprofit outreach in Florida. 
Spero, who graduated from Montclair State University, works in a pediatric intensive care unit at St. Joe's Hospital in Paterson as a certified child life specialist. She volunteers with Child Life Disaster Relief, a Texas-based nonprofit. Back in January, she completed online training to receive certification in disaster relief for children. Here, she learned how to translate the therapeutic and emotional skills she uses in the hospital to a community setting. At the Florida shelter, Spero and three other child life specialists assessed the children and provided the necessary care. 
"At first, when the children got there, they were very violent and very aggressive," Spero said. "They hadn't had any kind of service for weeks. So we created some fun activities to help them get out their emotions."
One activity the children participated in was demonstrating what the hurricane meant to them by drawing a picture of their experience or writing words to express their feelings, Spero said. They then crinkled up their papers and threw them into a hurricane drawn by Spero and the other child life specialists at the shelter. The activities helped give the young children a chance to work through their emotions, Spero said.
"In the following days, there was such a change in the kids," she said. "They were less violent. They were much more calm. They were now able to talk about their experiences and verbalize how they were feeling."
Other activities the children participated in were playing outside with chalk, playing sports and with first-responder toys inside. 
Spero said this experience was valuable in teaching her how to appropriately address trauma in children. 
"I learned how to meet people where they're at," Spero said. "You're not going to come in and be happy and joyful and smiley to everybody because I think that's not what they want. Saying 'Hey, this is who I am, I'm so sorry this happened, this is what I can offer for you,' is much better than me going in and smiling and being like, 'Hi, everything's great and rainbows,' because it's not." 
Spero says she formed close relationships with the children throughout her time helping at the shelter. She enjoyed getting to know each child and helping them work through their struggles. 
"In the shelter, I really saw how resilient kids are and how their community comes together," Spero said. 
Through her time at the shelter, Spero hopes that she has made a meaningful difference in the children's lives.
"A hurricane happened and almost all of them lost their houses, and some kids lost their pets," Spero said. "We can't make the experience go away, but hopefully we can make it a little bit better by allowing them to share their experiences and providing them with positive coping skills to get through it."
Behind the Byline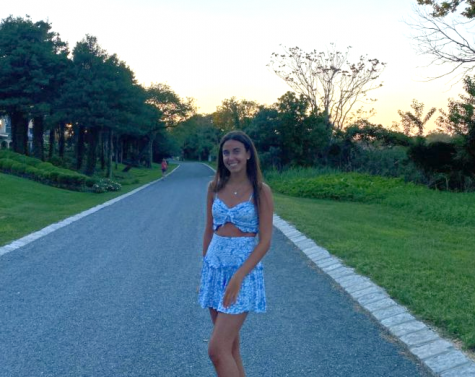 Lily Minish, News & Features Editor
Lily Minish is a News & Features Editor for the 2022-2023 Wessex Wire. She enjoys spending time with friends and family, going to the beach and traveling. Her favorite shows are "Grey's Anatomy" and "Gilmore Girls."