The most memorable home run chases since '98
In a historic season for baseball, all eyes were on the two home run chases that were bound to make massive waves in the sports scene. Aaron Judge was going for home run number 62 to best Roger Maris' American League home run record from 1961; Simultaneously, Albert Pujols was attempting to become the fourth player ever to hit 700 career home runs. 
On Sept. 23, 2022, seven days after home run number 698, Pujols stepped up to the plate in the third inning against the Dodgers, still two home runs shy of number 700. Pujols took advantage of a mistake pitch from Dodgers pitcher Andrew Heaney, sending it into the left field seats to take him to 699. In his very next at-bat, Pujols was staring down Dodgers relief pitcher Phil Bickford, now sitting in a 1-1 count after refusing to swing at two sliders. Bickford went back to the slider, and Pujols used his short and compact swing to get the barrel to the ball, sending it to a fan watching the game in left field for home run number 700. 
"The Machine" joins Barry Bonds, Hank Aaron and Babe Ruth as one of the only players to ever hit 700 career home runs. The milestone is incredibly rare, only three of the best power hitters of all time could achieve it previously, and only two of them did it without PED allegations and controversy. Pujols joins their company without PED allegations, an even more impressive accomplishment for baseball's oldest superstar. 
After a high caliber 2021 season, Judge returned in 2022 with an even better campaign. He stayed healthy throughout the entire season and proved his superstar potential by leading the entire league in most major batting statistics besides batting average. The idea of him surpassing former Yankees slugger Maris' record started to seem likely entering August when Judge was sitting at 42 home runs.  He continued his hot streak into the month of September.  Entering the final leg of the season, Judge was ready to make the idea a reality. 
On Oct. 4, the New York Yankees played away against the Texas Rangers in a double header, the day before the regular season's closing. Six days earlier, Judge tied the American League single-season home run record. Since then, he was on a long-ball drought, still searching for magic number 62. Pitchers were noticeably pitching around him, not wanting to be on the wrong side of history. He had five at bats in the first game of the double header, only managing one hit out of all of them. In the second game, it all finally clicked. Judge found himself in a 1-1 count, leading off the game, and Rangers pitcher Jesus Tinoco mistakenly hung a slider right down the middle. Judge got the barrel on the ball, hitting his 62nd home run into the left field stands. 
Possibly the most entertaining part about baseball games are when players crush home runs. Hearing the loud crack of the bat, seeing players bats flip and watching teams' dugout celebrations are what capture fans' interest. But what is special about these players is the rarity of their accomplishments. Anyone on any day can hit one out, but only four MLB players have ever hit 700 career home runs or 62 home runs in one season. Many fans will never get to see a career or season like this again in their lifetime.
---
"Albert Pujols, Los Angeles Angels of Anaheim" by Matthew D. Britt is licensed under (CC BY-SA 2.0)
"Aaron Judge" by Jeffrey Hyde is licensed under (CC BY-SA 2.0) 
Behind the Byline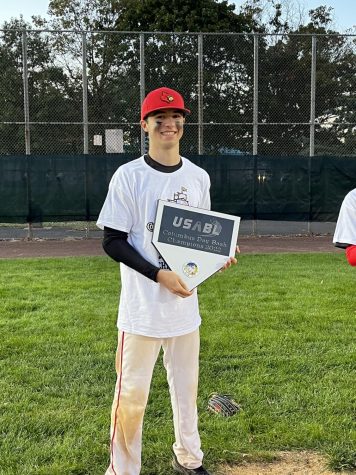 JJ Rella, Sports Editor
JJ Rella is a 2022-2023 Sports Section Editor for the Wessex Wire. When he isn't doing something baseball related, usually he's spending time with his family or friends. But most of the time he's watching sports, cheering on the Yankees or Seton Hall. He also has a driven passion for music, listening to Tyler, the Creator, Drake and more.