Division I commits break down the recruitment process
"It's never too early to start thinking about the future" are words students have heard their whole lives, and for athletes, it's no different. As early as elementary school, students begin to fantasize about playing in their favorite team's gear. Eventually, they kick off their athletic career as high school athletes, and the complex recruitment process is officially in full swing. 
Although talent is needed to get recruited, you also need to be in the right situation. Upperclassmen recruits noted that getting your name familiar with coaches is a key part of the process. Student athletes put their names on the map through social media and a lot of emails, but most players say club sports is the most important venue for getting noticed by scouts. There are a variety of different competitions, tournaments, showcases and other ways athletes play in front of college coaches that are not tied to their high school. Their film and play from these events are evaluated by coaches in attendance, and they reach out to the athletes they are interested in. 
"The most important part, I would say, is your film," said junior Abby Zanelli, who committed to Bucknell University for field hockey. "You get your film from all of these tournaments and you put together a highlight film…but it's important to show all of your play, including your mistakes…to show that you can improve. That's the main thing that colleges see just because they can't get to your every game." 
The different coaches represent their respective schools, which each are separated into different divisions. Division I schools have larger athletic budgets than Division II and III schools, garnering them more attention and popularity. This talent gap between the three makes Division I schools the most sought-after from student athletes.  
"I think Division I, you just get the best of the best," said senior Gianna Macrino, committed to play girls lacrosse at Rutgers University. "So every chance that you get to step on the field, it's not like, 'Oh, this is going to be a bad game.' Every time that you're on the field, you're playing against the best of the best. So it just doesn't get better than that, I don't think."
When negotiations with coaches begin, they get in contact with athletes after viewing their film from previous years. In these conversations, coaches will prioritize discussing academics. They also inquire about any other colleges that are interested, then give a run down of the campus and academics at their university. Coaches want to know they're getting someone who will hustle on the field and in the classroom as well. 
Once athletes narrow down their list of colleges, they begin to pick and choose between them. Scholarship and NIL money is sometimes involved, which allows athletes to get money off of their tuition or the opportunity to make money through their name, image and likeness. But most athletes refer to academics, proximity to home, location and other factors other than sports when making their decision. 
"The academic portion of Lafayette really caught my eye and also the location of it," said senior Jack Massotto, committed to playing boys lacrosse at Lafayette College. "Because there were one or two [schools] that were more in a city-type atmosphere, and I didn't really like that and I felt like Lafayette was a good fit." 
Once the big day comes to announce your commitment, athletes usually will experience a wide range of emotions. Typically an Instagram post is prepared and put in your drafts, complete with a long paragraph of shoutouts and gratitude toward family, coaches and more. This is not the end of the journey though, and in ways only the beginning. 
"[Committing] was a mixture of relief and nerves because at the same time you're done with the process, it's over, you made your decision," said junior Riley Ruane, committed to playing boys lacrosse at Quinnipiac University. "It's definitely a little bit of nerves, because you don't know if you made the right decision or not. I think I made the right decision…But I still have a lot of time to now see it out." 
Behind the Byline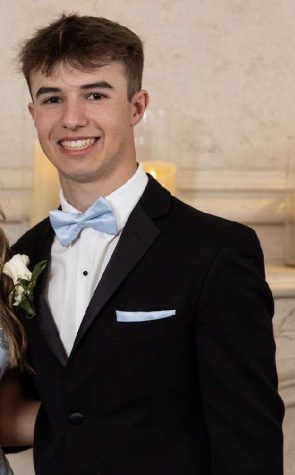 JJ Rella, Managing Editor
JJ Rella is a 2023-2024 Managing Editor for the Wessex Wire. When he isn't playing baseball he's most likely watching the Yankees game at home. He spends a lot of time watching and following other professional sports too, with his other favorite teams being the Packers and Knicks. He also never takes off his wireless beats headphones, listening to Tyler, The Creator, Drake, Frank Ocean and more on timeless loops.