Hurricane Ian tears through the Southeast
Hurricane Ian left its devastating impact throughout the United States last week, causing many to lose power, their homes, and for some, their lives. Traveling west from the Caribbean, the Category 4 Hurricane hit Florida early last week and moved up the coast to the South Carolina area this weekend. The storm has recently been downgraded to a post-tropical cyclone as it continues to move up the East coast. 
On Sept. 27, Florida residents were urged to pack up their families and their belongings and head to higher ground as the storm approached. Expecting more than a foot of rain, many left in a hurry to other parts of the country while others remained, determined to wait it out. 
The evacuations proved necessary as the hurricane entered the state with excessively high water levels, leaving both Florida's residents and their homes in great danger. Over 1,100 Floridians had to be rescued by the Florida National Guard due to the hurricane. Much of state transportation was also shut down, including major highways. 
Ian arrived in North Carolina as a Category 1 storm; however, it still wreaked havoc over the state. It had maximum sustained winds of 50 mph and was moving north at 15 mph. As of Sept. 30, the state had already reported 21 deaths within the same day of the hurricane's arrival. On Oct. 1, President Biden declared an emergency in North Carolina and ordered for federal assistance to help the state with the aftermath. 
In South Carolina, Ian devastated communities, as it is the first hurricane to reach the state in six years. Gov. Henry McMaster told NPR reporters on Sept. 30 that the storm was very dangerous but "not as bad as it could have been." Ian then hit Virginia on Sept. 30 at tropical storm status, knocking down trees and leaving over 100,000 residents without power. 
The death toll of Hurricane Ian continues to grow as at least 100 deaths are reported as of Oct. 1. Even as the Hurricane moves past Florida, major flooding issues continue to be a problem, and entire communities are being destroyed by the high winds and high water levels.  Many people across the state remain without clean drinking water or have no running water at all. One million people in Florida and 38,000 people in North Carolina were still without power as of Oct. 1. Rescue missions are underway in all impacted states. 
President Joe Biden and first lady Jill Biden traveled to Florida to assess damages. The President is determined to make sure the communities get all the help they need. "We're going to stay as long as it takes," Biden said on Sept. 30 at the White House.  
As storm relief efforts continue and people attempt to return to their lives as normal, the country is hoping for a quick recovery and the safety of all those involved. 
---
Photo Credit: "Hurricane Ian Aftermath in North Port, Florida 14" by PCHS-NJROTC is licensed under (CC BY-SA 4.0)
Behind the Byline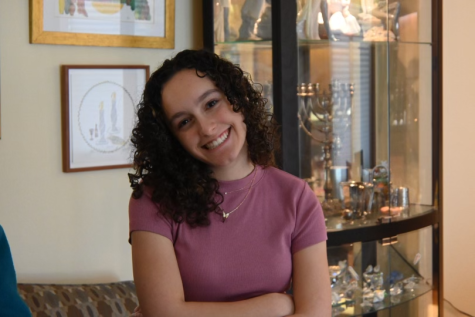 Eliana Rosen, Opinion Editor
Eliana Rosen is an Opinion Editor of the 2022-2023 Wessex Wire. When she isn't spending time with friends and family, she is probably listening to Taylor Swift on repeat. She spends her summers at Camp Ramah in the Poconos, her home away from home.