'The Machine' slugs his way to history
After 22 seasons of anticipation, Albert Pujols finally hit his 700th career home run on Sept. 23, firmly placing his name amongst the best sluggers in Major League Baseball history. Making headlines the entire month of September, Pujols cements his legacy leading up to his retirement at the end of this season.
Seven days after home run number 698, Pujols stepped up to the plate in the 3rd inning against the Dodgers, still two home runs shy of number 700. Pujols took advantage of a mistake pitch from Dodgers pitcher Andrew Heaney, sending it into the left field seats to take him to 699. In his very next at-bat, Pujols was staring down Dodgers relief pitcher Phil Bickford, now sitting in a 1-1 count after refusing to swing at two sliders. Bickford went back to the slider, and Pujols used his short and compact swing to get the barrel to the ball, sending it to a fan watching the game in left field for home run number 700. 
'The Machine' joins Barry Bonds, Hank Aaron and Babe Ruth as one of the only players to ever hit 700 career home runs. The milestone is incredibly rare, only three of the best power hitters of all time could achieve it previously, and only two of them did it without PED allegations and controversy. Pujols joins their company without PED allegations, an even more impressive accomplishment for baseball's oldest superstar. 
During the 1999 June Amatuer Draft, Pujols fell on the draft board until the 13th round, where the Cardinals selected him out of Metropolitan Community College-Maple Woods. Beating almost all the odds, Pujols was called up in 2001 and instantly dominated opposing pitching. Garnering three Most Valuable Player awards, 11 All-Star appearances and countless memorable moments, including his go-ahead home run to win Game 5 of the 2005 NLCS for the Cardinals. At the end of the 2022 season, Pujols will retire after making history one last time, bringing a smile to baseball fans all around the world.
---
Photo Credit: "Albert Pujols Rounds Second"  by bk1bennett  is licensed under (CC BY-ND 2.0)
Behind the Byline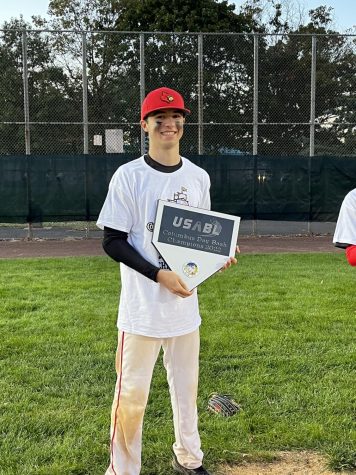 JJ Rella, Sports Editor
JJ Rella is a 2022-2023 Sports Section Editor for the Wessex Wire. When he isn't doing something baseball related, usually he's spending time with his family or friends. But most of the time he's watching sports, cheering on the Yankees or Seton Hall. He also has a driven passion for music, listening to Tyler, the Creator, Drake and more.