REVIEW: 'Top Gun: Maverick' takes flight in theaters
Newly released "Top Gun: Maverick" has taken viewers on a thrilling ride. The spin-off of the original 1986 "Top Gun" takes action and entertainment to new heights. Featuring Tom Cruise as "Maverick" and Miles Teller as "Rooster", the movie tells the story of a group of expert pilots who are called back to the Fighter Weapons School (Top Gun) to complete a nearly impossible airstrike mission. Throughout the story Maverick and Rooster uncover secrets about their past, rebuild their relationship and eventually execute the mission; all coming down to an exciting and surprising ending. 
While watching this movie, I was amazed at the graphics; fighter planes racing through the air at unimaginable speeds, executing intricate aerial stunts and firing off explosives left and right. Not to mention, the iconic shirtless beach scene featuring cinematic slow-motion shots of the characters, created a craze amongst viewers. Like no other, this movie was able to capture the reality of fighting in the military by utilizing real fighter planes and simulating real military bases. Aside from the intensely accurate and realistic stunts and the well constructed visuals, the acting was terrific. Tom Cruise was able to embody his character and show deep emotion through even the most heart-wrenching scenes. Along with Miles Teller, the actors were able to tell their story through humor and their deeply rooted past from the original movie, in order to express a sense of true friendship between the characters. 
After only ten days in theaters this movie generated an astonishing $548.6 million dollars globally, and is continually growing in popularity. So, whether it be Miles Teller's famous mustache or the revival of a favorite character, "Top Gun: Maverick" sure knows how to draw in an audience and leave them stunned. 
Behind the Byline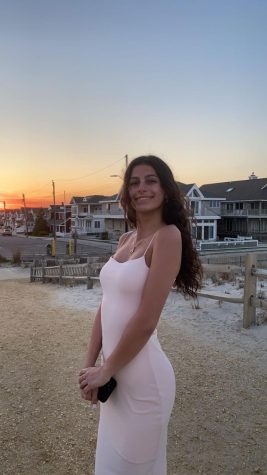 Gabby Angelo, Editor in Chief
Gabrielle Angelo, but you can call her Gabby, is an Editor in Chief for the 2023-2024 Wessex Wire. She enjoys spending time down the shore swimming in the ocean, eating ice cream and watching the sunsets, and loves anything  "The Vampire Diaries" related! On the weekends you can find her hanging out with friends and family making core memories.