Try 'catching' a baseball game and it won't disappoint you
Repetition can make sporting events boring to some, but an experience at the ballpark is timeless. Nothing can replicate the feeling of watching two talented teams duel on a sunny summer day, creating the perfect environment for everyone. 
The beauty of baseball is the randomness; no play is the same from the rest. Every new pitch has a clean slate, with the endless possibilities giving baseball fans something to look for. This makes the experience at the park a lot better, with the crowd reacting all together as a magical five-run ninth inning ends your favorite teams losing streak. 
The atmosphere in the postseason is even more electric. As the leaves fall, baseball fans pack their favorite team's ballpark to max capacity with support for their favorite team. When the best of the best create for the most exciting games of the season, and watching that live is unmatched. 
There are also quirks at baseball games that can't be replicated in any other sport. First pitches are incredibly anticipated. Nothing beats a celebrity throwing a ball into the stands, or a veteran getting celebrated for their service.
Going along with this is the experience of having a player sign autographs during warm ups. Young fans rush up to the side of the ledge holding a baseball and pen, awaiting to be noticed by their favorite player. Catching a homerun ball is the dream of every baseball fan, a feat that can only be reached by the luckiest spectators. Many will settle for a foul ball, or a simple flip from the bat boy. 
Fans charging on the field is also quite the sight, with crazy fans bolting while heckling one of the opposing players. When an animal makes its way onto the diamond its a much different reaction. Everyone grabs their phone and tries to take a picture of it before it scurries away. 
Ballparks are also notorious for their food, with every stadium holding something unique to the local area. From the widespread pretzels and cracker jacks, to more exotic things like "The Taco Dog," (a hot dog filled with chili, cheese, pico de gallo and jalapeños) or "Apple Pie Nachos," (cinnamon sugar chips topped with cheese, whipped cream, caramel and apple pie filling). The food at the ballpark never disappoints.
Behind the Byline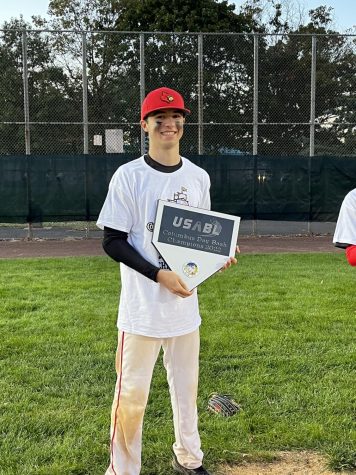 JJ Rella, Sports Editor
JJ Rella is a 2022-2023 Sports Section Editor for the Wessex Wire. When he isn't doing something baseball related, usually he's spending time with his family or friends. But most of the time he's watching sports, cheering on the Yankees or Seton Hall. He also has a driven passion for music, listening to Tyler, the Creator, Drake and more.