Sam Prince represents W.E. in NFL Draft
Dreams really do come true. This cliché expression is typically used to inspire young children when discovering their identity. But, for senior Sam Prince, his lifelong wish became a reality in May when he found himself onstage at the NFL Draft, announcing the pick for the New York Giants — his favorite team. 
When Sam was a child, he was diagnosed with left heart syndrome, meaning that he had half a heart. At 8 years old, he received a heart transplant that saved his life. Because of this transplant, he was able to join the Make-A-Wish foundation, which brought to life his lifelong sports-announcing dream.
On April 28, Sam traveled to Las Vegas for the NFL Draft, unaware of what was in store for him. His selection to be the announcer of the New York Giants pick was a secret to him until a few days beforehand. 
"Little did I know, my wish would be granted 10 minutes later," Sam said. "Kayvon Thibodeaux would be a New York Giant on Thursday night, and I'd be selecting him."
The entire experience was so surreal for Sam because it has been his dream for a long time, he said. Now that it has come true, he'll remember it for the rest of his life. 
"I still can't believe it," Sam said. "I thought that day was a dream."
Sam's obsession with sports is known at West Essex through the success of his Instagram account, "Prince on the Pod," where he provides coverage and opinions of professional and school sporting events. Sam attended an announcing camp two years ago, and ever since then, he's had a career in sports journalism and commentary in his sights, with announcing a draft pick as one of his ultimate, "impossible" dreams. He plans on becoming a broadcaster in the future, more specifically, a host for NFL Network, ESPN or any major sports company.
"I did a broadcasting camp in 2020, and I really liked it," Prince said. "It was a match made in heaven."
Michael Dominick, the assistant vice president of Marketing & Corporate Alliances at Make-A-Wish, is a main component of participants' wishes. He was able to talk to Sam personally about his wish, and contact the NFL to make it all happen. Dominick believes in the program, and how it lifts the kids' spirits after their wishes are granted. 
"These are testimonials that we're receiving from the medical community, they have told us that what we do makes a tangible, physical difference in these child's battles," Dominick said. "That's what puts the wind in our sails."
Sam's Constitutional Law teacher, William Morgan, spoke about Prince's energetic personality, his ability to act as a team player and his determination to reach his goals.
"He knew exactly what he wanted to do, and he did it," Morgan said. "This will help Sam go further in his academic and professional career."
Since that incredible day, Sam has seen many more opportunities come his way: He has been featured at media events for WFAN, WPIX-TV, "Good Morning Football"  and  "The Michael Kay Show" on ESPN. But out of all of these, his feature on NFL Network was his favorite experience. 
"That's my dream: to be on the NFL Network," Sam said. "So I was like, holy moly, they want me on the show. I want to be on that show."
Since then, Sam has been trying to process all of the experiences he has gone through in the past few months. 
"I've been all over," Sam said. "I'm riding this wave, as long as I can ride it."
Behind the Byline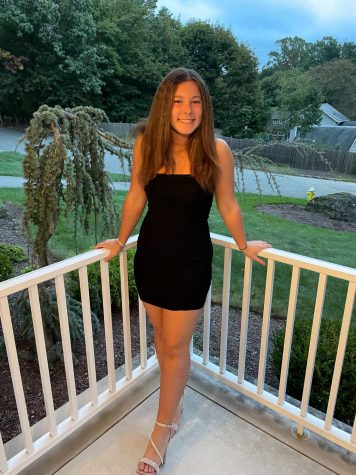 Francesca Loffredo, News & Features Editor
Francesca Loffredo is a News & Features Editor for the 2022-2023 Wessex Wire. She plays tennis and softball for the West Essex team. Francesca loves hanging out with her friends and family, and spending time at the beach.