West Essex Track shows out at SEC Meet
West Essex was represented well at the Super Essex County Conference American & Liberty Championships 2022, which took place on May 14, in Newark, N.J. West Essex had three gold medal winners at the meet and showed extreme dedication.
Junior Brett Bachenheimer was one of the three gold medal winners, finishing with an impressive 11-00.00 result in pole vault. Bachenheimer has been taking his craft seriously, and years of work have finally paid off as he finishes on top. 
"I have been doing pole vault since the beginning of eighth grade," Bachenheimer said, "All I had to show for it up until now was a bronze [medal] at the last SEC. Now that I have got a gold, it doesn't change much about how I see pole vault, but it will be nice to have on display." 
Also among the gold place finishers was junior Gianni Gencarelli, who successfully came out on top of long jump with a 19-10.00 result. For the girls long jump, junior Alexandra Sek finished with a 15-09.00 time which helped her reach the top and collect gold as well. Two more West Essex student athletes won bronze medals: junior Amro Salem in javelin and sophomore Charlotte Cazazza in pole vault.
Every athlete, especially for track & field, shows determination while competing at events. Bachenheimer spoke on the mindset of a track & field runner, showing the competitive spirit that comes with being a star athlete. 
"When I was competing, what was going through my mind was that I just wanted to get as high [a placement] as possible," Bachenheimer said. "I wasn't focused on getting a medal. I just wanted to do as well as I possibly could and it just happened to work out that me doing that was enough to get me first [place]." 
Behind the Byline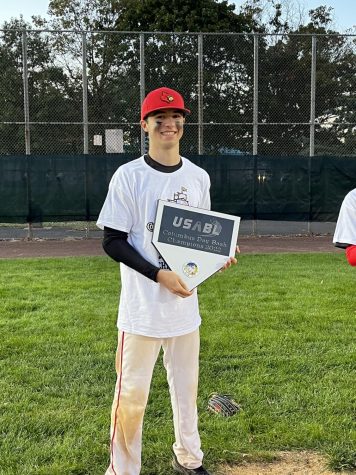 JJ Rella, Sports Editor
JJ Rella is a 2022-2023 Sports Section Editor for the Wessex Wire. When he isn't doing something baseball related, usually he's spending time with his family or friends. But most of the time he's watching sports, cheering on the Yankees or Seton Hall. He also has a driven passion for music, listening to Tyler, the Creator, Drake and more.