Bringing spirituality into the nurse's office
Bringing a new spiritual energy to West Essex, nurse Vanessa Rivera uses her past as an ICU nurse and her business, "For the Love of Chakras," to influence how she approaches her new job. She believes in transcendency and how it connects with the body and soul, and she hopes to bring these ideas into the community. 
Her first job was as a heavy highway laborer that trained women and minorities in trades to open opportunities for better jobs. After being unexpectedly laid off, she decided to follow her dream of attending nursing school. 
"I packed my apartment up in three days and moved back to Jersey," Rivera said. "I started nursing school two months later. I winged it all, but I knew that I needed to do something for my kids."
Rivera spent a lot of time with hospice nurses through her family members. She said she saw how passionate they were to their patients and their job, and was inspired to become a nurse herself. 
"I love taking care of people," Rivera said. "I feel like it's what I was born to do. Seeing the compassion that they offered to their patients inspired me to want to do the same thing." 
At West Essex, she is able to form relationships with students and get to know them. She likes how she is able to connect easily with students, in comparison to working in the ICU where there is a communication barrier. Rivera sees the importance of treating students as more than just patients. 
"I always like using meditation, yoga and mindfulness with my students and my kids, and appreciating the moment whether it's good or bad because it's a lesson in everything that we do," she said.
Nurse Rivera puts a special twist on her job through inner mind and psychological ideas. Her beliefs are embedded in the core of her business, "For the Love of Chakras," a mindfulness business where Rivera teaches different techniques to become one with yourself. She believes in the alignment of one's body with their mental and spiritual health. Rivera emphasizes that there has to be a balance between the two to be able to connect with oneself. 
Rivera says her definition of wellness is pretty simple: "Knowing what your purpose is in life and coming to that self-realization and understanding of how your mental health can affect your physical health," Rivera said. "Just piecing it all together, so that you can be one with yourself."
Rivera wants to bring mindfulness to the staff and students at West Essex. Anxiety relieving techniques are used in her business, and she wants to carry them into nursing. She believes that it will push students to try something new. 
"I teach people how to be present in the moment as opposed to being stuck in the past or being anxious about the future," Rivera said.
Behind the Byline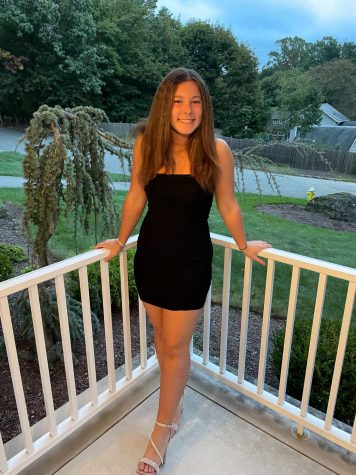 Francesca Loffredo, Senior Chief News & Features Editor
Francesca Loffredo is a Senior Chief News & Features Editor for the 2022-2023 Wessex Wire. She plays tennis and softball for the West Essex team. Francesca loves hanging out with her friends and family, and spending time at the beach.