Wire editor picked to represent N.J. at journalism event
Rachel Levine, one of the Editors in Chief of the Wessex Wire, was selected as the New Jersey representative to attend the Al Neuharth Free Spirit and Journalism conference from June 20 to the 23 of this year. Usually in Washington D.C. but changed virtually these last few years, it is a three to four day conference that allows young journalists to talk to professionals in the field and learn about pursuing it as a career. Rachel is excited to be able to branch out and hear about other school newspapers, and bring the information she learns back to the Wire for next year.
Q: How did you hear about this conference, and what made you apply?
A: "Herm was actually the one who told me about it, and I thought it was really interesting, because I want to pursue journalism as a career when I'm older, and I thought it was a fascinating opportunity to gain more knowledge of the journalism field."
Q: What made you want to become a journalist?
A: "I've always known that I wanted to be a writer, like I've just always loved my English classes, and have loved to write since I was little. When I first started writing for the Wire, I realized that I wanted to specifically pursue journalism. I've just really been passionate about it and find myself writing at home in my free time."
Q: What do you think this opportunity will do for you as you continue a career into journalism?
A: "I think it will definitely give me an opportunity to meet other journalists like me. There's one representative from each state, so it's obviously kids who, like me, are really passionate about journalism and want to pursue this when they're older. I am looking forward to connecting with students across the country who have their own unique experiences from their respective newspapers.I'll be able to hear their ideas and how they operate, and it's cool to be able to see those different perspectives. "
Q: What do you think your favorite part of this conference will be?
A: "I'm really honored that I was chosen and I'm excited to meet all the different people and be able to take what I learn and help make the Wire stronger for next year. Just like the new tools that I get, and the different strategies and stuff that they teach. I'm excited for all of it, meeting the people and hearing what everyone has to say."
Q: How do you think your experience working on the Wire has shaped you for wanting to be a journalist and for a future career in journalism?
A: "I just always think of Herm, and how he's so passionate about journalism, and he makes the class so enjoyable. He's so excited to teach us so that makes me excited to learn. So, I feel like having that and definitely just the dynamic within the classroom. Every step of the process like opening the newspaper and seeing your work in there, it's just so rewarding and I'm excited to be able to do that in the future."
Behind the Byline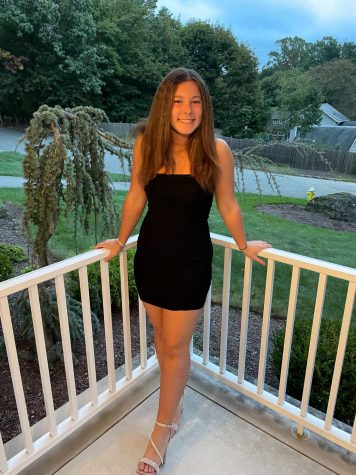 Francesca Loffredo, News & Features Editor
Francesca Loffredo is a News & Features Editor for the 2022-2023 Wessex Wire. She plays tennis and softball for the West Essex team. Francesca loves hanging out with her friends and family, and spending time at the beach.