Florida governor clashes with Disney over 'Don't Say Gay' bill
Gov. Ron DeSantis of Florida signed the "Parental Rights in Education" bill on March 28, which critics have called the "Don't Say Gay" Bill. According to the NPR, the bill states that "classroom instruction by school personnel or third parties on sexual orientation or gender identity may not occur in kindergarten through grade three or in a manner that is not age-appropriate or developmentally appropriate for students in accordance with state standards. ." Simply put, this law bans Florida school teachers from teaching about sexual orientation or gender identification. There is not a clear cut line for what is "appropriate" to teach and what is not, causing great controversy.
There has been backlash against DeSantis from members of the LGBTQ community and critics who feel it will adversely affect the community's youth. According to the Human Rights Campaign on Aug. 26, 2020, CDC data shows that LGBTQ youth are more likely to be bullied than straight cisgender youth. More recently, a study released by The Trevor Project, one of the largest suicide prevention networks and crisis intervention for young individuals, revealed that "LGBTQ youth who had access to spaces that affirmed their sexual orientation and gender identity reported lower rates of attempting suicide than those who did not." The Trevor Project, along with others, feel this new bill limits students' ability to feel "comfortable" and leads to a stronger violence rate. 
"I am inspired by the outpouring of support for LGBTQ students we have seen from parents, teachers, celebrities and their peers," the executive director and CEO of the Trevor Project, Amit Paley, said, according to an April 22 NPR article. "I want to remind LGBTQ youth in Florida and across the country that [they] are not alone."
Along with many LGBTQ organizations, Walt Disney World spoke about their opposition to the new legislation. Disney CEO Bob Chapek spoke with Governor DeSantis on Wednesday, March 30, "to express [his] disappointment and concern that if the legislation becomes law, it could be used to unfairly target gay, lesbian, non-binary and transgender kids and families."
In their opposition to the law, Disney has taken various steps to show its support for the LGBTQ+ community. Chapek revealed that the company has signed the Human Rights Campaign's statement which defies the legislative efforts. The company also plans to pledge five million dollars to organizations like the Human Rights Campaign that work to protect LGBTQ+ rights. 
In 1967, Disney gained almost total control of their attractions and parks when the county was designated as the Reedy Creek Improvement District by the state; they operate with their own county government, electricity, water, roads, police and even their own taxes. On April 22, Governor DeSantis struck back against Disney and signed Senate Bill 4-C, a bill that would deprive Disney World of being an "independent special district." This bill destroys Disney's autonomy, along with creating a huge tax burden on Orange and Oceola countries, where the Disney parks are located. These counties would have to absorb the debts of Disney's district, thus resulting in higher taxes for businesses and residents. 
Disney influences much of the state of Florida, and the governor does not support what he describes as their "woke" ideas. After the corporation previously disagreed with DeSantis' legislation regarding the COVID-19 vaccine and face covering requirements, DeSantis believes that Disney had finally "crossed the line."
The bill will go into effect on July 1 of this year, however, will not actually affect the state until June 1, 2023, once the six special districts that lawmakers targeted become dissolved, and the counties must take up Disney's responsibilities. 
Behind the Byline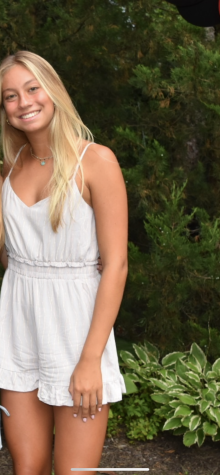 Skye Grimes, Contributor
Skye Grimes is an Apprentice Editor for the 2021-2022 Wessex Wire. She plays soccer for the high school team and on a club team year-round. She enjoys running, lifeguarding at the beach and hanging out with her friends.