Boshak represents Team USA abroad
It's a warm, sunny day out on the West Essex tennis court. The tennis team is warming up and rallying with their opponents in order to get loose; at the leftmost court, there is one player concentrating, analyzing his opponent's playstyle. Donned in his black and white zip-up sweater, tennis captain Eli Boshak is ready and hungry to compete.
Boshak, a senior, has been playing tennis for as long as he's been playing sports. When he first picked up the racket in 1st grade, he grew an immediate attachment to the sport. 
"My dad used to play tennis," Boshak said. "I pretty much played every sport as a kid. Tennis was one that I enjoyed out of all of them, and that's when I got more serious about it."
As his love for the sport grew, his commitment to getting better at it also grew.
"I usually play around two days a week, if not more, depending on if I play with friends," Boshak said. "But I pretty much play throughout the whole year. I've made a strong commitment, whether it's conditioning for tennis, or playing and practicing itself."
This work has translated into a lot of Eli's success, for he has been playing first singles on the varsity team since his freshman year, and was selected to represent Team USA in the Maccabiah Games. The Maccabiah Games are often referred to as the 'Jewish Olympics'. The competition brings together over 10,000 Jewish athletes to compete in sports in several divisions: open, junior, masters and disabled. Because of its size and the amount of athletes competing, the Maccabi Games ranks third in terms of the biggest athletic events, behind the World Cup and the Olympic Games.
"I filled out an application with my rankings and everything about my tennis [experience]," Boshak said. "Then I went to a tryout and played with people from all across the country and ended up being selected to the team." 
"I remember I got a call from my mom during class," Boshak said. "I thought, 'why is my mom calling me?' And then when I looked and saw I was selected, I was freaking out in the car on the way home. It definitely was a shock to me. There were definitely a lot of top talent players there." 
Eli is competing in the junior division and not underestimating his competitors.
"There's definitely going to be top-tier competition," Boshak said. "There's like 40 countries in the competition of tennis alone, so I'm gonna face top-tier talent from all over the world. I definitely think they're going to be hard-fought matches; I just have to go out and compete."
For accomplishments like this and others like winning NJSIAA Scholar-Athlete of the Year, Eli remains very humble, thanking his parents and coaches for helping him get this far. 
"My parents helped support me when I needed it," Boshak said. "They helped me work. I went down to the courts with my dad when I was struggling, to work on shots and he's helped me play when there's no one around to play with. I've had a wide variety of coaches at clinics and practices that have pretty much helped me develop my skills to what they are now."
 Though Eli does not plan on playing tennis competitively in the future, he does acknowledge the impact that tennis has made on him as a person.
"I would say tennis has definitely improved my mental side because you need to forget if you mess up right away because if it gets in your head, it's just gonna build up and it's gonna keep messing you up as time goes on," Boshak said. "So I've pretty much learned to just forget mistakes after they happen. 'It's happened. It's in the past you got to move on.'"
Behind the Byline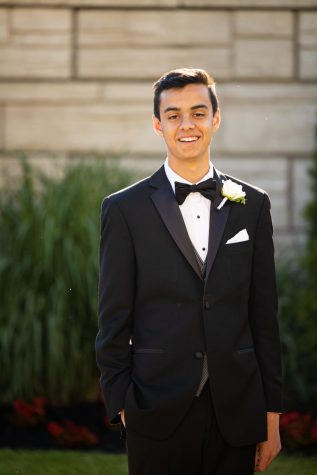 Curran Rastogi, Managing Editor
Curran Rastogi is a Managing Editor for the Wessex Wire. He runs cross country in the fall and plays golf in the fall. Fun Fact: He met Devin McCourty and Logan Ryan in a hotel lobby.