OPINION: Jackson confirmation hearing devolves into a political circus
I have been to many bar and bat mitzvahs in my life. I have been listening to sermons from rabbis for even longer. Every now and then when a rabbi failed to tie the dvar torah into some sports analogy, they had a foolproof ace in their back pocket: Louis Brandeis. I'm not even joking when I say that every rabbi I have ever talked to knows or has told his story.
Louis Brandeis was the first Jewish individual to serve on America's highest court. Nominated in 1916 by president Woodrow Wilson, the controversy surrounding his nomination grew so strong that the Senate held its first ever public hearing for a supreme court nominee. Some, such as Sen. Henry Cabot Lodge, went so far as to complain that "if it were not that Brandeis is a Jew, and a German Jew, he would never have been appointed."
Now this is the part of the story which rabbis really love. When being honored earlier in his career by the American Bar Association, Brandeis approached the podium and stated "I am sorry I was born a Jew," receiving a round of applause. But then, he continued. "I'm sorry I was born a Jew, but only because I wish I had the privilege of choosing Judaism on my own."
While watching the Senate confirmation hearing for Judge Kentanji Brown Jackson, I was reminded again and again of Brandeis, especially during Sen. Cory Booker's emotional closing remarks. I have witnessed many SCOTUS confirmation hearings in the past few years and I have never seen the Senate behave so despicably as they did for Jackson. Jackson is an exceptionally qualified, articulate and intelligent individual, who will make an exceptional associate justice for the country's highest court. But I do not need to state that, Jackson has demonstrated her professionalism and intellectualism day after day in the Senate chamber. Despite this, she has been condescended to and unfairly questioned by many Republican senators.
While Sen. Ted Cruz made a fool of himself in a memorable way by reading from a picture book, Sen. Marsha Blackburn made the largest impression on me. In all fairness, I don't think Blackburn, despite being elected to both the U.S. Senate and the Senate Judiciary Committee, knows exactly what the Supreme Court does. This was made clear by her sporadic and seemingly random lines of questioning, which had no correlation with the court or Jackson's qualifications. In her opening remarks she questioned Jackson on how she would deal with the issue of transgender athletes in sports. She stated the example of Lea Thomas, a transgender UPenn swimmer who recently won the NCAA championships. Besides grandstanding and trying to rally her conservative base, Blackburn neglects that the Supreme Court does not create the NCAA guidelines for transgender swimmers, to which Thomas abided by.
These tangential and nonsensical questions peaked when Blackburn asked Jackson to define a woman before concluding the left's so-called attack on women's sports. In the next breath she went on to advocate for the need for parental rights in education. Once again, Jackson has been named an Associate Justice of the Supreme Court, not an official in the department of education. So Senator Blackburn's questioning on parents' rights in independently educating their child have absolutely no claim or place for the current setting. Judge Jackson is exceptionally qualified. and it is despicable to see so many Republicans turning a nonpartisan process into a political trainwreck.
---
Photo credit: "Supreme Court" by Mark Fischer is marked with CC BY-SA 2.0.
Behind the Byline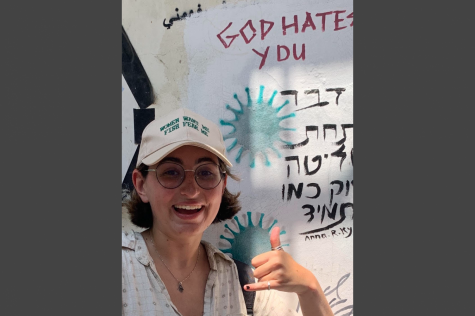 Samara Schiffman, Contributor
Samara Schiffman is a contributor for the 2021-22 Wessex Wire. At school, they do anything and everything, serving as an Editor-in-Chief for the Roundtable literary magazine. As a self-proclaimed Lorde aficionado, they spend a lot of time listening to "really underground stuff," such as this obscure band Nirvana (their song "Stairway to Heaven" is a personal favorite). In their free time, they love to chill with friends and just keep pushing that boulder.