Induction day celebrates academic achievement
West Essex is spotlighting education with an Academic Achievement and Induction Day on April 13, where subject-specific Honor Societies will be celebrating the educational accomplishments of the students that are a part of the program. During the school day, teachers, students and families will have the opportunity to recognize academic scholarships and attend the induction ceremonies. Some teachers have also volunteered to open their classrooms to visitors in between ceremonies. Between 8:45 a.m. and 2 p.m., the Honor Societies of world language, science, accounting, math, social studies, art, woodshop, English and music will feature what is being offered to the students.
"I think we wanted to be able to celebrate our strong academics and allow the community to be a part of that," Forensic Science teacher Daniela Colabelli said.
Colabelli is just one of the numerous educators that are going to be welcoming visitors into her classroom to get an idea of what her students are participating in and learning. Located in her room is going to be a crime scene investigation for those to get a glimpse into what happens in that class.
"I'm pretty excited about it…it's a good opportunity for growth and change," Social Studies teacher Caroline Blanchard said. "Logistically, it will be a lot of work, but I think the administration will be able to handle that. As a parent, I would think this would be a special way to see my child honored."
This day of inductions and ceremonies was created by the administration, more specifically Principal Caesar Diliberto, in hopes of building a sense of community and excitement around academics and displaying the pride that the entire staff has in the students and all that they've worked towards. Before the big day of events on Wednesday, the NHS is also hosting a night ceremony on Tuesday, April 12, located in the high school auditorium at 7 p.m.
"We've been thinking about how we can invite the community into the school after two years of being shut down," Assistant Principal Kimberly Westervelt said. "For two years we haven't really been able to host events and have things here. We have all these content-specific honor societies, so why don't we have one day where they come in and the kids get their awards during the day and make it a day about basically celebrating achievement."
In addition to the various ceremonies, Induction Day will allow families and friends to visit classrooms and participate in activities, such as the semi-finals and final round of Family Feud that will be hosted in the auditorium during the lunch period. This tournament will raise money in support of the Give Kids the World Senior Service trip. The show is open for anyone, including parents, to come by and watch for $15 a ticket.
"They do this fundraiser every year for GKTW," Westervelt said. "We thought it was a good idea to include it in this day because it's a really fun thing for people to watch and be a part of so everyone can go during the lunch block on that day."  
Many students and their families have been able to attend multiple induction ceremonies throughout the year, sometimes five or more. However, this new concept will give families the opportunity to be immersed in the academic and even scholarly opportunities available at West Essex, for the first time in two years.
Behind the Byline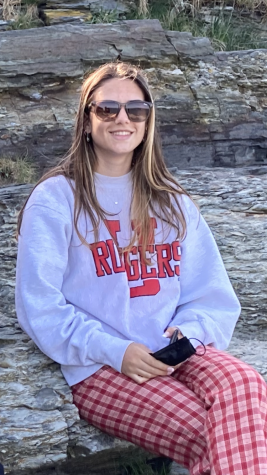 Gabby Pawlowski, Senior Chief News & Features Editor
Gabby is one of the two senior chief news and features editors for the 2021-2022 staff on the WessexWire. When she's not playing soccer or lacrosse, Gabby likes to watch shows like American Horror Story and Scream Queens. Her favorite food is burritos. She wants to work in the field of psychology at some point in the future and takes interest in astrology. With her 3 friends Ally, Jamie and Roxanne she has a podcast called "Ragja that!" which you can stream on Youtube and Anchor.