Get a backstage pass with Masquers stars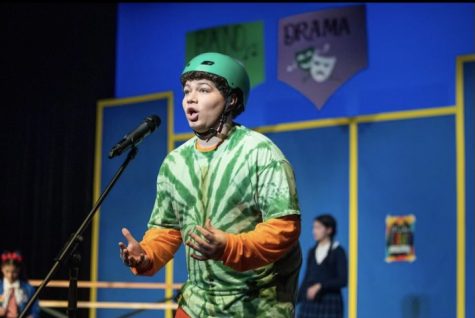 BRANDON KLAFF
In his role of Leaf Coneybear in the Masquers production of the "25th Annual Putnam County Spelling Bee", Junior Brandon Klaff kept the audience on their toes with his sudden changes in volume and constant jokes. His character was enthusiastic and hilarious, but the real testament is to Klaff as the audience could feel his passion through every word he spoke. 
"I feel like the role suited me because it's a lot like me," Klaff said, "Like Leaf, I'm always laughing at stuff and acting really goofy and energetic." 
Klaffs energy was clear. From his role "I'm not that smart", to his intense screaming of different spellings of words, each audience member could physically feel the force of passion he was giving off. Leaf Coneybear was a boy who didn't have the support of a single family member who had the slightest bit of faith in him, but he couldn't care less. He just wanted to spell. Klaff encompassed every aspect of his character's background in the way he spoke, sang and danced to create the greatest impact on his audience.
Not only did Klaff end his junior career with a spectacular performance, but he had the pleasure of finding a whole new group of friends.  
"I've met so many amazing people in Masquers, many that I likely wouldn't have talked to otherwise."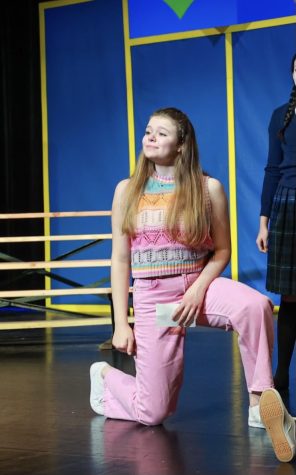 EDEN KLEEFIELD
In her second year as a Masquer, sophomore Eden Kleefield took the stage as Olive Ostrovsky and she didn't hold back. From simple lines to solos, her energy captivated the audience. Though her character was shy and tended to hide her emotions, this didn't hold Kleefield back. She was able to depict Olive's underlying struggles through her facial expressions.
"I would say my strongest asset in my acting would be my facial expressions," Kleefield said. "I'm a very expressive person, so I feel like I can get my character's emotions across very well just from my face."
One of her most prominent moments on stage was her performance of the "I Love You" song. Though gloating about her Mother's move to India earlier in the show, the song reveals a different side of Ostrovsky's pain that Kleefield portrays perfectly.
"It has a lot of gorgeous harmonies and was really cool to act out," Kleefield said, "I think that the song really gave my character more depth and that the audience gained a much clearer understanding of her backstory."
Her performance was close to perfect, and deservingly, she wouldn't change a thing. "
I wouldn't change anything about this production," Kleefield said, "It was a great cast, a dream role and the whole process was a lot of fun."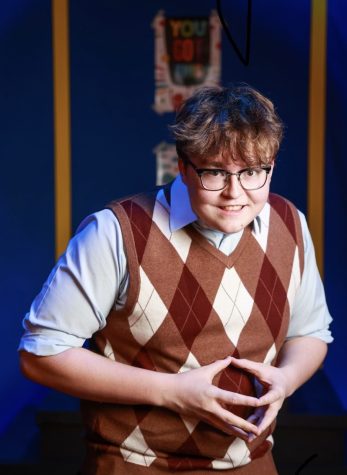 Hudson King
Playing William Barfee, Hudson King ended his junior year as a Masquer with a bang. Immersed in his role, King could not finish a line without the whole audience bursting into laughter. But his perfect embodiment of Barfee was what ultimately made him shine.
"I envision Barfee with a hunched back and also being really awkward, so I tried to look super awkward on stage and always walk and move in a Barfee way," King said.
And that's exactly what he did. In his solo 'Magic Foot,' King was able to display his singing talent while maintaining a nasal voice and awkward gestures. Despite the obvious excel in his main scenes, his strength as an actor was shown even in the background. From lightly fixing his glasses to sniffling, there was not even a single moment that he could be recognized as anyone other than William Barfee. With a clear hold on embodying roles and fighting through the barriers of singing while staying in character, King justifiably sees a future in theater.
"I would love to do theater out of high school," King said, "I love it, but I'm not entirely sure yet."
Behind the Byline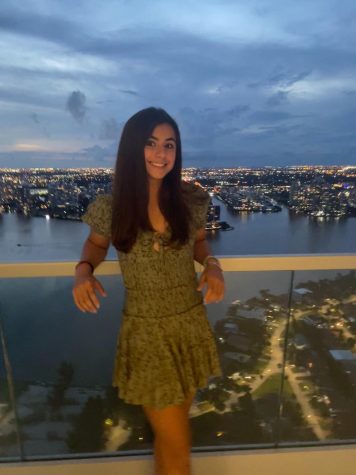 Jordan Cohen, Senior Chief Sports Editor
Jordan Cohen is a  2022-2023 Sports Editor for the Wessex Wire. She loves to play tennis, basketball, and lacrosse for the school. Jordan also enjoys hanging out with her friends, watching Netflix, especially two of her favorite shows "Grey's Anatomy" and "The Vampire Diaries".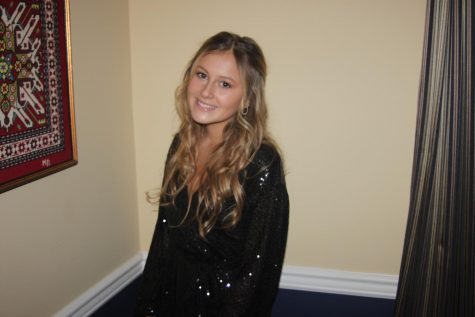 Brooke Murphy, Editor in Chief
Brooke Murphy is a 2022-2023 Editor in Chief for the Wessex Wire. She enjoys spending time with friends and traveling with her family. Brooke also plays lacrosse for the school and her favorite show is "The Office".