Retiring the courtroom, taking on the classroom
English teacher Suzana Duby rediscovered her love for teaching after time away.
English teacher Suzana Duby has had a plethora of careers, between teaching and being a lawyer. Through her different experiences, not only has she been molded into the clever, easygoing person she is today, but she's also found her true calling toward education. 
Born and raised in New Jersey, Duby attended the prestigious Columbia University, securing an undergraduate Bachelor of Arts in English. Obtaining her masters degree from Montclair State University and a law degree from Rutgers University, Duby has been far from stagnant. Her intelligence shines through as she teaches AP English Language and Composition, along with AP Seminar and English Honors II at West Essex.
After graduating, Duby worked as an English teacher for her first 10 years at Columbia High School. After acquiring her law degree, she left the classroom to work in private firms. In addition, she was a New Jersey state deputy attorney general and a lawyer in the House Counsel at American Water. 
"Lawyering was very interesting," Duby said. "I did a lot of really neat things, but the traveling was getting to be a little bit much. My kids were getting older and I wanted to be able to spend more time with them. I think I also just missed the classroom."
Working with high schoolers allows Duby to see into their world, she said, and she learns something new every day from their writing and language.
"I always find the discussions to be so interesting, and I love it," Duby said. "When kids begin to really master or feel confident over something that in the beginning of the year they thought was going to be impossible, to me, that's really rewarding."
Duby said she truly wants to see her students succeed. She elicits this success through her attentiveness and soothing manner. With Duby, students feel heard and inspired to conquer the rigorous material ahead of them. 
"I want my students to be independent thinkers and learners," Duby said. "I want to help them continue to develop skills, to know how to make up their own minds and to know how to critically look at information and understand what's happening."
With COVID-19 creating chaos and confusion last year, the third-year West Essex teacher said she's eager to be back in the classroom. 
"I'm happy we're back and I really enjoy teaching in person," Duby said. "I miss my yoga pants, but I do enjoy being here. I think just being able to get to know my students at a personal level is really rewarding."
Behind the Byline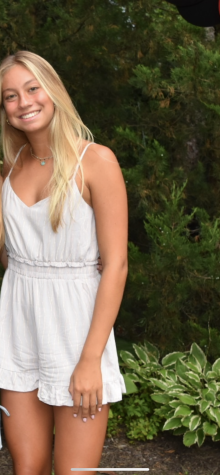 Skye Grimes, Staff Writer
Skye Grimes is an Apprentice Editor for the 2021-2022 Wessex Wire. She plays soccer for the high school team and on a club team year-round. She enjoys running, lifeguarding at the beach and hanging out with her friends.