'Red (Remi and Izzy's Version)': A top 10 from Taylor Swift's latest
Two Taylor Swift superfans argued, cried and hugged it out to make this top 10 list of songs from Taylor Swift's re-release "Red (Taylor's Version)."
1. All Too Well:
Fans have long anticipated the "All Too Well" 10 minute version since Swift first revealed that her 5 minute and 27 second beloved and fan favorite song "All Too Well" actually had another five minutes that were left off the original "Red" album in 2012. When Swift announced that Taylor's Version of "Red" would include the 10 minute version in addition to the original five minute, fans spent six months eager for the release. "All Too Well" is known as one of Swift's most genius songs as its lyricism perfectly encapsulates the feelings of reminiscing over a past relationship in intricate detail that leaves the heartbroken more resentful and vulnerable every time the memories replay. Although Swift has been relentlessly criticized for attacking her past relationships in her music, it admirably hasn't changed her approach. She wears her heart on her sleeve and to her credit, isn't afraid to tell the world about her hurt and heartbreak.
Even though the breakup between her and Jake Gyllenhall, who the song is suspected to be about, happened 12 years ago, Swift embraced the opportunity to tell the story in its entirety and paired it with a visual to coincide with the music. The short film, which was also written and directed by Swift, walked the audience through the toxicness of her relationship to demonstrate how Gyllenhall repeatedly made Swift feel like she was in the wrong and that she was the problem. Although this relationship left a permanent scar on Swift, her ability to tell the full 10 minute story brought great emotional relief to her, and an addicting new single to fans. Her courage and big heart have not gone unnoticed, as Swift's 10 minute story has received nothing but praise. Every lyric has significant meaning and the creativity and passion in which Swift portrays them is what has permitted the song to climb hundreds of music charts and become a fan favorite within just a few weeks. The wait was worth it. – Remi's Version 
A common tagline in the media these days to describe an over dramatic reaction to something upsetting is "crying and throwing up."However, the 10 minute version of "All Too Well" developed a whole new and way too literal meaning of this once insipid phrase. Swift's eloquent illustration of the tragic suffering experienced from a relationship with a man 10 years older than her results in a contagious sadness felt by Swifties worldwide. After being depicted as the villian who childishly fools around with men, Swift could finally seek vengeance twelve years later by sharing her side of the story of the gut-wrenching gaslighting she repeatedly experienced. No longer constrained by Scooter Braun or society's opinions, Swift finally gained the courage to produce an obnoxiously long ballad filled with targeted attacks at her past lover. "All Too Well"'s excessive appeal is not only credited to its dramatic elements, but the lyricism is unbelievably genius. As depicted in the short film, this track has fans begging for Swift to produce a novel or even a poetry book. The infatuation with this song is no exaggeration, especially considering the emotional relief it brought to Taylor. –Izzy Farina 
2. I Almost Do
"I Almost Do" is arguably the most overlooked, underrated song on the original album of "Red." The song is a portrayal of pure honesty in which Swift admits she does not have the willpower to contact her ex due to her fear of falling for him again, and putting herself in a position to get even more hurt. In this song Swift expresses very little emotions of resentment, and instead lets the audience into her vulnerability and craving to give the relationship another chance. What makes this song so special is that it doubles as a song to belt in the car, but also as a song to listen to when you're heartbroken, conflicted and alone. The relatability of the song classifies it as an elite ranking as people ranging from kids to adults often want to call their ex, feeling like they may have made a mistake breaking off the relationship, but after a relentless back and forth internal debate, find the willpower to not cave. Shadowed by "All Too Well" in the original album, "I Almost Do" will hopefully get the chance it deserves to shine in Taylor's re-release.
Favorite Line: "I bet it never ever occurred to you that I can't say hello to you and risk another goodbye."
3. State of Grace
Perhaps the most perfect song on the album to use as an opening track, "State of Grace" is an upbeat song that introduces the main themes of the album. Swift passionately expresses how love unexpectedly swept her off her feet, and how when that relationship quickly ended within three months, she was filled with heartbreak and anger. However, she is now in a "State of Grace" and uses "Red (Taylor's Version)" to walk her readers through the highs and lows of her relationship.
Favorite Line: "So you were never a saint and I've loved in shades of wrong."
4. Nothing New (feat. Phoebe Bridgers)
Taylor Swift illustrates the wretched conflict of having one foot in the door of youth and the other in the door of adulthood, as she braces turning 22. Not only does she have to battle these confusing feelings about her own identity, but she feels incessantly beaten down by the criticism of the media. The weathering of her once solid self perception leads her to ask if she will still be enough once she no longer appears as a shiny new toy for society to play with. The harmonies made with Phoebe Bridgers, a slightly smaller artist, are truly angelic, further bringing Taylor's vision to life. This duo is truly an unanticipated match, but I could not be more grateful for their heavenly collaboration.
Favorite Line: "How long will it be cute all this crying in my room when you can't blame it on my youth and roll your eyes with affection"
5. Better Man
The extreme favorability of "Better Man" comes from its universally applicable sentiment. Swift depicts the devastation felt when unequal levels of devotion lead to the eventual collapse of the relationship. Although she is fully aware that the breakup was necessary, she belts how the pain of remembering makes it impossible for her to not dream for a man of better character. The strength contrasted with the pain in her voice elevates her reputable lyricism to a whole new level.
Favorite Line: "I waited on every careless word Hoping they might turn sweet again Like it was in the beginning"
6. The Last Time
Featuring Gary Lightbody of Snow Patrol, the duet of "The Last Time" is an emotional powerhouse that connects with listeners as they hear the different sides of a breakup, both from the girl, Swift and the boy, Lightbody's perspective. The bridge of this song includes alternating lyrics between the two as they both passionately express how this is "the last time" they fight for their relationship and finally acknowledge they cannot recover what they used to have. Swift argues from the point of view that she is done trying to be good enough for someone who can't appreciate her, while Lightbody's perspective is of a man who wants, but can't stop dragging his significant other along. The song makes it in our top ten ranking because of the truth and acute emotions expressed which makes it easy for fans to connect with.
Favorite Line: Swift- "This is the last time you tell me I've got it wrong" Lightbody's response- "This is the last time I say it's been you all along"
7. Sad, Beautiful, Tragic
In just three simple words, Taylor Swift compartmentalizes all the emotions felt during the reflection of her breakup. Swift geniusely appeals to the relatability of listeners, who are also battling the difficulty of letting go of the "beautiful" moments while recovering from the "tragic" ones. The build in Taylor's voice mirrors the build in her anger and passion as she fights to save her love from crumbling to tragedy. Her voice sounds even more powerful, yet elegant in Taylor's Version, resulting in its high ranking on our list.
Favorite Line: "Kiss me, try to fix it Could you just try to listen?"
8. The Moment I Knew
Birthdays are a timeless tradition serving as one day a year for people to celebrate themselves. Imagine the heartbreak when your significant other, the one who means the most to you, forgets about your special day, especially your 21st birthday. Forgetting her birthday and embarrassing her by skipping her celebration, Taylor realizes at this moment her relationship has inevitably come crashing down. Swift beautifully illustrates these feelings of distraught through her powerful belting, compelling Swifities to sing along with her. This song is extra special because of the new parallels in the "All Too Well" 10 minute version, where Swift sings that her father tells her "it's supposed to be fun turning 21". Additionally, the counterpart to this song is the upbeat song "22", to demonstrate her optimism for the age of 22, after 21 was such a difficult year.
Favorite Line: "What do you say, when tears are streaming down your face In front of everyone you know?"
9. 22
The biggest pop, most upbeat song from "Red" had a whole different meaning in Taylor's Version. The positive, live while we're young feeling of the song remained the same, but Swifite's embraced the song with a whole different perspective after it became apparent the song was a secret "F you" to her ex, Jake Gyllenhall. Fan have questioned Swift's decision to place "22" after "All Too Well" on her album list since "Red" debuted in 2012. However, after getting the 10 minute version of "All Too Well" in 2021 and the line "it's supposed to be fun turning 21" was added to the extended version, the reasoning behind Swift's decision became clear. Gyllenall left Swift alone and heartbroken on her 21st birthday, so by following "All Too Well" with "22" Swift puts an emphasis on the fact her broken heart has healed and this year she is just celebrating. Because Swfities now know the song is another dig at Gyllenhaal, it has been embraced with a whole new meaning.
Favorite Line: "Yeah, we're happy, free, confused and lonely at the same time, It's miserable and magical, oh yeah"
10. The Very First Night
There is really no feeling quite like the rush of a new blooming relationship. Taylor encapsulates the vibrance of these oncoming emotions through an upbeat and catchy pop song. Even after the demise of this relationship, she continues to reminisce about the joy from their time spent together, especially the utopian times like their very first night. The song's radiant energy makes listener's want to get up and dance, opposed to wallowing and crying, like many other Swift ballads. A little change in pace is vital to the integrity of the album, so something a little more frivolous is refreshing. 
Favorite Line: "Back then we didn't know we were built to fall apart We broke the status quo, then we broke each other's hearts"
Behind the Byline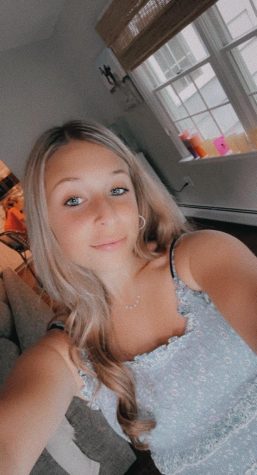 Remi Goldstein, Editor in Chief
Remi Goldstein is an Editor-in-Chief for the 2021-2022 Wessex Wire! She loves hanging out with her friends, listening to music, and playing soccer for both the school and her club team! Remi is an avid coffee drinker and Grey's Anatomy watcher.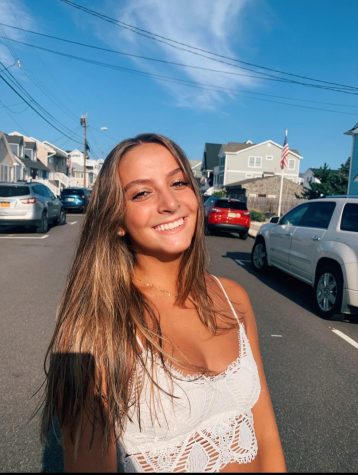 Isabelle Farina, Art Director and Advertising Editor
Isabelle Farina is the Art Director and Advertising Editor for the 2020-2021 Wessex Wire. When she is not dancing she is hanging out with her friends. She loves her dogs and the beach. She prefers to go by Izzy.