Oh So Pleasing
When you think of Harry Styles, you might think of him as "a singer" or "an actor," but now meet "Harry Styles: The Brand." Everyone knows Styles from his singing in One Direction, and soon after the band broke up, he started his solo career when releasing a number one song, "Sign of the Times". He even starred in the war documentary, "Dunkirk". But in the truest sign of mega-celebrity status, in November Styles released a new beauty line named Pleasing, which took his fans and the world by storm. 
Styles first announced the Pleasing launch on Instagram on Nov. 14. The first presale drop included four different nail polishes, a lip pen, $30 and an illuminating serum, $35. The nail polish individual pricing was $20, but all together in a set of four is $65. He is also soon to be releasing crew necks for this line that is expected to be sold out in its presale just like the beauty products, and he's expected to expand this everlasting line with new products in the coming months. 
This beauty line is also environmentally friendly and vegan. All of his products have a "no-cruelty" policy on animals, and they are all morally sourced. Styles said on his website that he wanted to be able to make these products the right way, and in a way that does not hurt the environment. 
"I am planning to order products because brands like his that are vegan, cruelty free, etc need to be supported in order for changes to be made," freshman Brianna Pease said.
This singer is all about breaking gender stereotypes, and he shows that through everything he does. During his concerts and public appearances, Styles wears nail polish proudly, and that typically is considered a "feminine" idea. But, through releasing his beauty line, he has shown the world that anyone is welcomed to find what makes them happy and allow them to become who they are. 
"He chooses to show society that he is able to successfully break gender barriers that he says he must act a certain way in order to be liked," sophomore Mia D'Amore said. "However, Harry debunks this rumor by being himself and dressing in ways that make himself happy instead of others."
From this line, Styles is expanding his fame to new outlets. So far, he has succeeded in a music career and as an actor in multiple films. Now, he has exposed himself to a new lane that is not usually generated toward men. But, he is taking it in stride, being himself, and that allows for success in itself.
"Obviously there are so many cosmetic brands out there, but not many made by men," freshman Samantha Bertonashi said. "Harry creating this line gives him the chance to be in the cosmetic industry which will create lots of success." 
While making this new beauty line, Styles wanted to be able share his small moments with his fans. He wanted to be able to allow everyone to remember the small moments that have long lasting memories and effects on his fans. Because these moments spark differences in him, Styles wanted these effects on his fans as well. 
"It is just so clear that he created this brand not only for him, but for all of his fans. This brand continues to push his message of treating people with kindness, and being who you are," Pease said. "I think that message is what inspired most of Pleasing."
Behind the Byline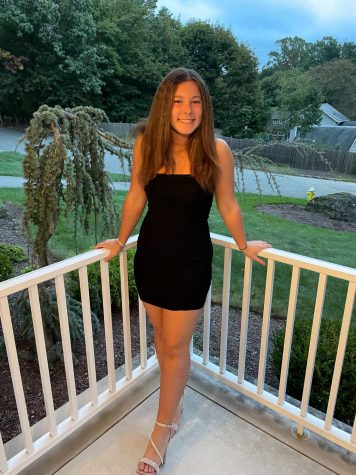 Francesca Loffredo, News & Features Editor
Francesca Loffredo is a News & Features Editor for the 2022-2023 Wessex Wire. She plays tennis and softball for the West Essex team. Francesca loves hanging out with her friends and family, and spending time at the beach.