REVIEW: 'An Evening with Silk Sonic' is a soulful, delicately crafted journey
Blasting off into the music scene comes "An Evening With Silk Sonic," the collaborative R&B album with a track list clocking in at nine songs. It's been five long years since Bruno Mars has released a full length project, which fans have been waiting for, for it feels like centuries. He pairs up with well known artist and producer Anderson .Paak to build "An Evening With Silk Sonic," a delicately crafted masterpiece of soul, R&B and pop music fused together. 

The opening track, "Silk Sonic Intro," introduces listeners to the project with lots of energy and enthusiasm. Vocals from Anderson .Paak and Bruno Mars give this unmatched energy that incite party life and craziness. Then Mars hands the microphone over to funk legend Bootsy Collins, who truly gets the party started with his speech. 
"Leave The Door Open," takes the energy back a few steps, with Mars and .Paak opening up to a softer spot, hoping this girl stays instead of leaving, and the trumpets blare once again with "Fly As Me," with the groovy disco instrumental followed by .Paak cleverly snapping line after line. 
Mysteriously we open with the girl talking on the track, "After Last Night," and we learn she does indeed stay with Mars instead of leaving. The chill vibe comes back for this song, giving more energy though, with the vocals and ad libs on point as they follow the instrumental. Here, a narrative starts to form, and listening gives the impression that the album is more than a series of shuffled singles.
A standout cut is "Smokin Out The Window," where Bruno Mars and Anderon .Paak, share their displeasure with how the girl played them. As they grieve, they reflect on how she cheated and belonged "to everybody," when in reality now all they're doing is "smoking out the window." The chorus is catchy, as Mars and .Paak compliment this with an equally catchy pre chorus. 
"Put On A Smile," takes the energy back multiple levels, giving it a more sad vibe with it's tone and lyrics. Mars and .Paak once again reflect on the girl, as they try to find happiness without her in their life. 
"777" brings back the vibrant instrumentals, and it's easy to make comparisons to Vegas with this track, as the entire song is about gambling. The chorus and bridge are, for another time on this record, insanely catchy and vibrant. It makes the listening experience way more enjoyable, when you're bobbing your head and memorizing the lyrics through your first, and second listen. 
The first dud on this album is "Skate." It doesn't share the same charm or appeal as the rest of the songs on the track list. The lyrics are not as clever or catchy as the rest of the songs, it feels really dragged out and doesn't hit as hard with the instrumental compared to other upbeat songs on the record. 
The closing track, "Blast Off," brings the album right back to where it started. A fresh sound in the sound effects and tone in Mars' voice, makes it such a great closing to the project.
Just going song for song, it's obvious that Bruno Mars, Anderson .Paak, and their featured guests did an amazing job with "An Evening With Silk Sonic." But there is a hidden meaning in the order of tracks, that makes it not just a collection of songs, but a story. From meeting a girl at a party in "Silk Sonic Intro," to trying to win her over in "Leave The Door Open" and "Fly As Me," to finally having her in "After Last Night," to grieving losing her in "Smokin Out The Window" and "Put On A Smile," and using gambling to relieve the pain in "777." Then the cycle repeats with "Skate" and "Blast Off," with a new girl and the journey repeats all over again. The nature of getting a significant other and then losing them, takes a toll on your emotions that is relatable to many real life situations of listeners. Giving the album an appeal that all enjoyers of both artists will appreciate. 
Grade: A-
Behind the Byline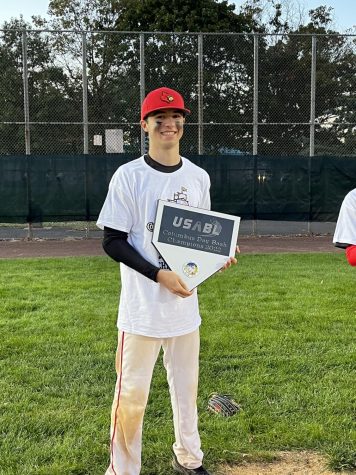 JJ Rella, Sports Editor
JJ Rella is a 2022-2023 Sports Section Editor for the Wessex Wire. When he isn't doing something baseball related, usually he's spending time with his family or friends. But most of the time he's watching sports, cheering on the Yankees or Seton Hall. He also has a driven passion for music, listening to Tyler, the Creator, Drake and more.