REVIEW: "You" Season 3 is killer
To kick off the spooky season, Netflix released Season 3 of "You" on Oct. 15, 2021 in their scariest location yet: the suburbs. 
Though "You" features Penn Badgley as main anti-hero Joe Goldberg, those nostalgic of his former "Gossip Girl" role as Dan Humphrey will be unpleasantly surprised, for the former 'lonely boy' has evolved into a serial murderer. Ironically, his murderous character in "You" is less of an outsider and more likable than Humphrey. However, viewers will note that Goldberg boasts the same wit and critique of those on 'the inside,' or in Madre Linda's case, the anti-vaxxing vegans of suburbia. 
Though Season 2's finale baited viewers with a hint at Goldberg's newest infatuation-the neighbor-Season 3 opened with the former stalker adapting to domesticated life. Married to his obsession from the previous season, Love Quinn, played by Victoria Pedretti, Joe battles his stalking tendencies in an attempt to be a good father for his newborn son, something he never experienced as a child. However, after watching Quinn murder his ex-girlfriend Candice, Goldberg makes it his mission to 'save' his son Henry from being exposed to his wife's evil; because having one serial killer as a parent is apparently less traumatic than having two. Viewers can't help but laugh at the sheer hypocrisy Goldberg possesses throughout the season as he admonishes Quinn for her sins while justifying his own as a moral duty. His opinion on Love fluctuates: one minute he idealizes her as a loving mother and the next as a monster. 
What elevates this season above the previous two is that producers take the monotony of the white picket fences of suburbia and expose their seemingly perfect facade. Though "You" features the normal pitfalls of marriage–jealousy, commitment and delegation–they show how it can be taken to an extreme with Goldberg and Quinn. For instance, when Quinn suspects her husband's brewing affair with the neighbor, her immediate reaction is to kill her. Though this is not typically the 'shaky foundation' most newly weds face, her impulsivity sets up the rest of the season's frenzy to cover the murder up and introduces new love interests Marianne and Theo, played by Tati Gabrielle and Dylan Arnold, along the way. 
The show is brilliant in urging us to root for the bad guy, making viewers feel guilty upon reflection for biting our nails in fear that our favorite serial killers will finally face the music. However the notion that viewers feel guilty right alongside the characters is what makes "You" such a thrilling experience to watch. I won't spoil the ending, but buckle up, because Season 3 of "You" is quite the wild ride.
Behind the Byline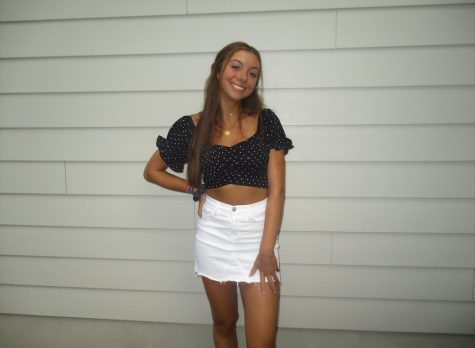 Isabella DeRose, Editor in Chief
Isabella DeRose is an Editor in Chief for the 2021-2022 Wessex Wire, but you can call her Bella. She loves hanging out with her friends, going to the beach and spending time with her family. Fun Fact: She's watched "The Office" seven times, and considers it her favorite show.