NEWS ANALYSIS: R. Kelly transforms in public eye, but this is who he's been all along
With 26 Grammy nominations, three Grammy wins and 14 albums released, Robert Sylvester Kelly transformed and redefined R&B and hip hop. The "King of Pop Soul" rose to fame early on, from singing in church and subway stations to winning $100 thousand on the show "Big Break" with his group MGM.
Growing up as the third of four children in Chicago, Kelly's mother was a teacher who raised her kids by committing to their community to compensate for their father's absence.
According to his memoir, Kelly witnessed a rape at 12 years old, additionally admitting that he was sexually abused by adult relatives for years.  As a teenager, he moved and enrolled in the prestigious Kenwood Academy.
When Wayne Williams from Jive Records discovered Kelly at a barbecue, they moved quickly, signing him and soon after, producing his first album.  Kelly's music career advanced amazingly, drawing constant attention and praise for his work.  This earned him his countless nicknames and awards throughout the years.
At 27 years old, Kelly married 15-year-old singer Aaliyah D. Haughton in a secret ceremony.  The marriage ended up being annulled only months later due to her young age.  Houghton died in a tragic plane crash at the age of only 22.  Kelly then went on to marry 22-year-old dancer Andrea Lee, and the couple proceeded to have three children together.
This was when the allegations began to arise.  Tiffany Hawkins filed a complaint of sexual battery and assault that occurred when she was a minor, however, the lawsuit was settled for $250 thousand without going to court. Again, Tracy Sampson sued Kelly, but it was settled out of court and out of the public eye.
Within this time, Kelly won three Grammys for "I Believe I Can Fly," as his reputation was simultaneously tarnished by the constant allegations and lawsuits.
Chicago Sun-Times reported that they received a videotape displaying Kelly with a minor, causing the police to begin investigating related allegations from three years earlier.  The girl and her family continuously denied any relationship between the two.
Based on all of the allegations arising, Kelly was indicted in Chicago on child porn charges, which stemmed specifically from the sex tape.  He pleaded not guilty and was released on bail.  However, he was arrested soon after at a Florida hotel for photos of his participation in child pornography, but the charges were dropped because the police who arrested him did not have a warrant at the time.
After many allegations, Andrea Kelly, his wife, asked for an order of protection. She also came out and publicly accused her husband of assaulting her when she asked for a divorce.  R. Kelly's brother, Carey Kelly, then came forward saying that his brother offered him $50 thousand and a record deal to say he was the person in the video.
This all contributed to the child pornography trial that began in 2008, but it ended quickly with Kelly being acquitted.
Following a trend of bad publicity for Kelly, BuzzFeed added onto the negative attention by publishing more reports of parents' claims that Kelly had brainwashed their daughters. This incited activists to launch the #MuteRKelly movement, which called for boycotts of his music.
Kelly was sued by 20-year-old Faith Rodgers, alleging sexual battery, mental and verbal abuse and knowingly infecting her with herpes.  He was arrested and charged with 10 counts of aggravated sexual abuse in February 2019.
Kelly was then charged with 11 new counts in Chicago and soliciting a 17-year-old in Minnesota.  The jury found R. Kelly guilty of sex trafficking and violating the Mann Act, which makes it illegal to take anyone across state lines "for any immoral purpose."
After avoiding consequences for decades, Kelly's wealth and power were no longer able to keep people quiet. There were too many accusations to ignore. People took action and Kelly panicked. He was evicted from two of his Atlanta-area homes due to unpaid rent.  At the same time, Spotify cut R. Kelly's music from its playlists. Apple and Pandora soon followed and stopped promoting his music as well.
Kelly's immoral and incomprehensible actions started in the 1990s, but it took three decades for him to be convicted.  He remained protected for so long because of his powerful threats against the victimized women and anyone else who threatened to expose him. The people around him were terrified to speak up.
In 2021, R. Kelly was found guilty on all nine counts, and he was charged in three states.  Facing life in prison, the court showed, rightfully so, no mercy for Kelly. The hope now is that all of his victims can finally find the solace and peace they need to move on with their lives and forget about the hideous crimes of Robert Sylvester Kelly.
---
Photo Credit: "R Kelly Trial" by WBEZ is licensed under (CC BY-NC 2.0)
Behind the Byline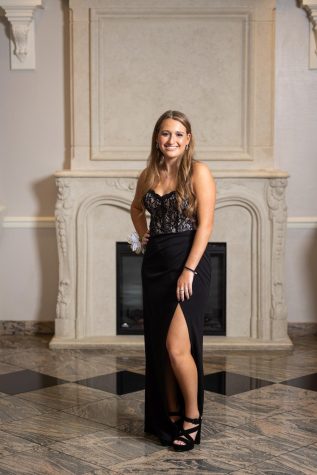 Lindsey Leitner, Managing Editor
Lindsey Leitner is a Managing Editor for the 2022-2023 Wessex Wire.  She enjoys spending time with her family and friends and playing on the school tennis team.  In her free time, she likes to watch Netflix, read, and play with her dog.