Returning to school serves as a wake-up call, both to teachers and students
Editor's Note: Updated Dec. 20 with administrative comments and information on survey results.
With the switch back from virtual and hybrid learning last year to full-time in person instruction this year, students feel the need to relearn how to complete their previously normal everyday actions.
But in general, students have a much more favorable view of being back in person, according to a Wire survey of 178 students conducted in October. In that survey, 67 percent of students said they liked or loved being back in person, as compared to only 22 percent who said they liked or loved remote and hybrid instruction from 2020-2021. In the same survey, only 11 percent of students said they disliked or hated being back in-person this year, whereas 43 percent of students said they disliked or hated remote/hybrid instruction from 2020-2021.
"I like being in a good environment and being able to get stuff done," one student said.
Administrators agree with this statement, especially considering the struggles students and faculty faced with virtual learning last year. The ability to communicate directly and make sure students are focused will prove to be a great help to teachers.
"I think being back in a structured environment was desperately needed," Principal Caesar Diliberto said.
Additionally, the social aspect makes in-person learning much more appealing.  Getting to spend every day having face-to-face interactions with friends makes it easier to get through the day.
"It's just good to have in-person interactions," Diliberto said.
However, after going an entire year without waking up as early, taking tests in person, being face-to-face with their teachers and seeing friends and peers all day, students struggle to return to this routine.
While the majority of students prefer being in person, they also dislike the assumption from teachers that they still received the same education benefits last year as they would have in a normal school year.
"It's tough to readjust and use material from classes I took last year that I don't really remember anything about," one student said.
"It has taken a large physical and mental toll," another student said.
Behind the Byline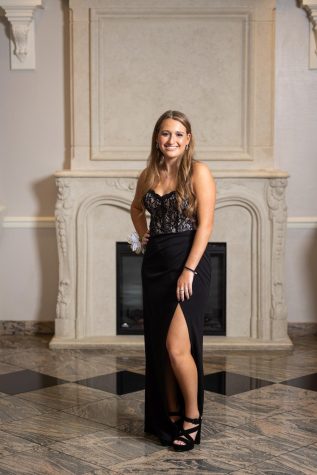 Lindsey Leitner, Managing Editor
Lindsey Leitner is a Managing Editor for the 2022-2023 Wessex Wire.  She enjoys spending time with her family and friends and playing on the school tennis team.  In her free time, she likes to watch Netflix, read, and play with her dog.