NEWS: Influencer Gabby Petito's story grabs national attention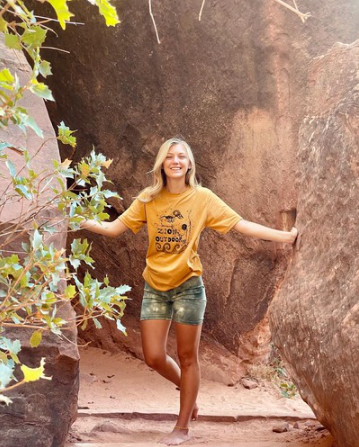 Ed note: Updated Dec. 20 with more information about Brian Laundrie's death
Social media influencer Gabby Petito's remains were found on Sept. 21 in the Grand Teton National Park in Wyoming after being reported missing on Sept. 11. An autopsy determined that her cause of death was strangulation. Her fiancé Brian Laundrie is the primary suspect. The case has blown up into a social media and news frenzy as new details continually emerge about her mysterious disappearance and death. 
According to CBS News, Petito and Laundrie left New York in July and began their four-month road trip across the country. The two were traveling and staying in a van. Their van got pulled over one Thursday while traveling through Moab, Utah, on Aug. 12. Someone had called 911 reporting domestic abuse against Laundrie. The police officer also said that the driver was driving recklessly and that he may have been intoxicated, as shown in the YouTube video uploaded by FOX 13 in Tampa Bay. This is when the couple's eerie story began.
After pulling them over, the officer found Petito crying in the passenger seat. The officer asked her to step out, and she explained that she and Laundrie had been arguing all morning. Eventually, Laundrie stepped out of the vehicle, casually talking to the officers as Petito continued to cry. Petito took the the blame for the argument. However, due to her mental health issues that she struggled with, the officers sent Laundrie to sleep in a hotel room while Petito slept in the van to give the couple time apart. In the end, no charges were filed.
The last time that Petito's family heard from her was during the last week of August. The family claimed that two texts in particular were considered strange behavior for the 22-year-old. In one of her texts, Petito mentioned her grandfather in a peculiar way, according to News4Jax.
"Can you help Stan, I just keep getting his voicemails and missed calls," Petito texted. 
Nicole Schmidt, Petito's mother, said that she never refers to her grandfather by his first name, "Stan", and that this was when she began to worry about her daughter's safety. She even considered the fact that it might not be Petito sending those messages. Petito then sent a follow up message on Aug. 30. 
"No service in Yosemite," Petito said.
Her mother claims that after this, her phone shut off and she disappeared off of social media. This was unusual behavior for Petito as well. Later in September, a woman made a public claim that she had given Laundrie a ride on Aug. 29. She said he claimed he had been camping alone for days and that Petito was back in their van working on her social media.
In regards to Petito's social media posts, the public has been buzzing about her strange behavior online. People have mentioned strange captions on her posts, differences in her appearance and other oddities.
On Sept. 1, Laundrie returned to his home in North Port, Fla., where he and Petito lived together along with his parents. On Sept. 11, Petito's family reported her missing after not being able to get in touch with her for a concerning amount of time. This means that Laundrie had never reported Petito missing, even weeks after returning home to Florida 
On Sept. 16, panic in the Petito family started to kick in. They began to beg Laundrie for any information that he may have in hopes of finding their missing daughter. At this point, Laundrie and both of his parents refused to speak on the situation. 
Laundrie was reported missing on Sept. 17. His body was found on Oct. 21, and his cause of death is ruled to have been caused by a gunshot wound according to NBC News.
Since Petito and Laundrie were traveling alone and camping out in national parks where her body was found, an arrest warrant was issued for Laundrie. They were not able to get a hold of him. Due to his death, the case remains stuck and nothing can further be done when it comes to the homicide of Gabby Petito.
Behind the Byline

Roxanne Boychuk, Senior Chief News & Features Editor
Roxanne is the Senior Chief News & Features Editor for the 2021-2022 Wessex Wire. Roxanne enjoys playing volleyball in her free time as well as eating at Wendy's and watching crime documentaries. She also loves listening to good music and spending time with her friends. She's interested in news and features pieces. She also has a podcast called "Radja That!" with her friends Gabby, Jamie, and Ally that can be streamed on YouTube. A fun fact about Roxanne: She is bilingual and speaks Ukrainian.