Masquers set stage to stream 'A Knight at the Theatre'
The show must go on! Despite the unprecedented year, the Masquers of West Essex put the finishing touches on the spring musical, "A Knight at the Theatre," in late May. In light of COVID-19 precautions, the Masquers are not performing the show live, but instead filmed the musical for people to buy and stream online the weekend of June 18. 
Rather than performing one main musical show, the Masquers picked five different 10 minute musicals to put into one show.These five different short films include, "Bitter Sweet Lullaby," "The Almost in Laws," "End of the Line," "Run This Town" and "The Cookie Soiree." The play will act as a movie night, and each film will play one after the other. 
Musical Director Brittany Hernandez said she's incredibly proud of the way her cast handled the challenges they faced to produce this play. Despite the challenges of learning, practicing and performing the show around safety restrictions and hybrid schooling, Hernandez explained how the cast worked tirelessly to accommodate their schedules and follow all of the COVID-19 safety guidelines. 
"Singing with masks is not easy," Hernandez said. "They were really able to push past all the obstacles they faced."
Most of the cast has not performed inside on a stage in more than a year. The Masquers' fall production was done completely remote and through Zoom, so rehearsing indoors seemed unusual to many, but a familiar phenomenon that they had not encountered since March 2020. 
Junior Catherine Khitiri, who also works as an editor for the Wessex Wire, said she's excited to finally perform on the stage in person again.
"It felt nice to perform on the stage in person again," Khitiri said. "A lot of people got good roles and were able to show off their abilities compared to one giant musical with only a few leads."
The musical was also easier to complete than the fall musical, many cast members said. 
"The performance has improved a lot," Khitiri said. "The costumes looked nicer, the acting was better, and there was no awkward editing."
No matter the circumstances this year, the Masquers cast and producers pushed past all the hardships, and were happy to finally be back in person. 
"Everyone was really excited to be back in the building and performing again," Hernandez said. 
Behind the Byline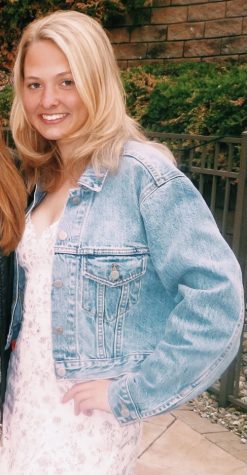 Molly Simon, Senior Chief Arts and Culture Editor
Molly is the Senior Chief Arts and Culture Section Editor for the 2021-2022 Wessex Wire. Molly's favorite things to do are play lacrosse and soccer. She is the Varsity Lacrosse captain. She also loves to spend time at the beach and with her friends. Her favorite Netflix show is "Gossip Girl" and favorite movie is "The Devil Wears Prada."