Winners and Losers of the 2021 NFL Draft
With the NFL Draft come and gone and the armchair GMs have given their takes carbon-copied from the talking heads on ESPN and NFL Network, it is now a safe place to denote the winners and losers of the draft. Obviously, the draft is an inexact science, and in a good draft only about half of the first-round picks will get a second big contract, but succeeding in the draft jumpstarts your team into a competitive one. The Indianapolis Colts drafting Quenton Nelson, San Francisco 49ers drafting Nick Bosa and Washington Football Team drafting Chase Young come to mind as examples. With that being said, here are the winners and losers from the 2021 NFL Draft:
Winners:
Miami Dolphins
Talent, potential and playmakers. These three words define the Miami Dolphins 2021 Draft Class, and they are why general manager Chris Grier can walk away feeling strongly about his draft. Jaylen Waddle, Wide Receiver out of Alabama, at pick 6 and Jaelen Phillips at pick 18 are the kind of high-upside picks that put a team on the inside track to success. The fact that the Dolphins grabbed a speed-demon of a playmaker in Waddle gives quarterback Tua Tagovailoa a much-needed deep threat. Phillips, an edge rusher from UMiami, at 18 was an absolute steal, and despite his injury concerns, he comes ready with all of the attributes seen in some of the best edge rushers in the NFL. With a stellar offensive tackle from Notre Dame in Liam Eichenberg and a swiss-army-knife at safety from Oregon in Jevon Holland in the second round, the Dolphins will look to truly compete with the best in the AFC this year.  
Baltimore Ravens
Baltimore Ravens quarterback Lamar Jackson lacks a true number one wide receiver; everyone knows that, including Baltimore's front office. If all goes to plan, they will have their number one wide receiver in Rashod Bateman out of Minnesota; Bateman is a very complete receiver with no true weaknesses and exceptional hands that can provide a big-body target to Jackson. They also took a big swing on Odafe Oweh, a developmental edge rusher from Penn State. The Ravens also grabbed Tylan Wallace from Oklahoma State as another big body wide receiver with a big catch radius. By fixing their biggest needs in wide receiver and edge rusher, the Ravens look to win the Super Bowl again, potentially hitting home runs in those positions.
Ja'Marr Chase
Cincinnati Bengals receiver Ja'Marr Chase comes out of the draft in the best situation he could be in and an undoubted winner. Chase's chemistry with quarterback Joe Burrow is much better than just a QB and WR teaming up in college. Burrow's trust in Chase is unmatched; numerous times during Chase's college career he was completely covered, but Burrow still threw the ball to Chase anyway. Chase had 84 receptions with 1,780 yards and 20 touchdowns in his sophomore season with Burrow as his quarterback, alluding to NFL success. The pick was a good pick for Cincinnati, as Chase is a huge playmaker for Burrow to work with, but Cincinnati's failure to significantly address the offensive line (their biggest need) hurts their draft. Chase is an incredible player, and due to his chemistry with Burrow, he is in the best position to succeed early in his career.
Losers:
Las Vegas Raiders
The Las Vegas Raiders are the weirdest team in the NFL Draft and continue to surprise people, ending up on the losing side of the draft this year. Alex Leatherwood from Alabama at pick 17 was simply bizarre, passing up on players like Jaelen Phillips from Miami or Christian Darrisaw from Virginia Tech and Tevin Jenkins from Oklahoma State, both needs at tackle. They did address a major need at tackle, but they reached high for a second-round talent over better players. Drafting Trevon Moherig from TCU was not terrible, but then they drafted a man with a top 10 name in the draft: Divine Diablo from Virginia Tech. General manager Mike Mayock has made some very bizarre moves since coming to the Raiders and has hit on some of them, but if the Raiders fail to make the playoffs this year, he may see his job gone soon.
Pittsburgh Steelers
The Pittsburgh Steelers come out of the NFL Draft as a loser simply based on not getting good value on their picks until the third round. Najee Harris, running back out of Alabama, at pick 24 is a great player, but at poor value. However, drafting him in the first round would have been completely fine if they had invested in the offensive line in the second round. Instead, the Steelers drafted Pat Friermuth, a tight end from Penn State, in the second round, passing up offensive linemen like Creed Humphrey from Oklahoma or Brady Christiansen from BYU. They also could have drafted another edge rusher with the uncertainty of Alex Highsmith replacing the hole from the departure of Bud Dupree. They also could have moved up to the early second round to around pick 39, and take Teven Jenkins from the Bears, who could help them far more. Drafting Kendrick Green, a guard for Illinois, was a good idea, but ultimately too little too late. The Steelers poor attempt at addressing their offensive or defensive line, and not drafting for needs makes the Steelers' draft a losing draft. 
Chicago Bears Twitter Account
The Chicago Bears Twitter Account tweeted out a picture of a jersey swap of then-starting quarterback Andy Dalton on March 24th and were clowned at the time. The caption on the tweet read "QB1". This was made even worse when the Chicago Bears drafted quarterback Justin Fields out of Ohio State at pick 11. The pick itself was great as Chicago gets a franchise quarterback, but their Twitter account takes a very big L, as Fields will most likely play year one. It's undoubtedly unlucky for the social media account because they would have had no idea their front office would make this trade. The Bears traded a first-round pick to the New York Giants for the pick, but the funny part is the Bears' tweet aging like milk. For their unfortunate tweet, the Bears social media team is a draft loser.
Behind the Byline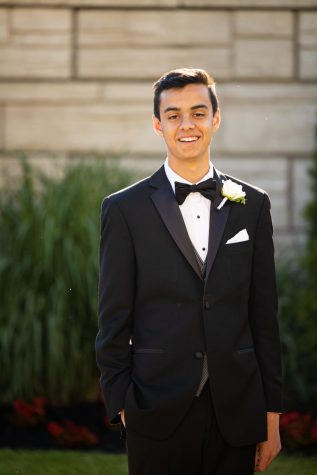 Curran Rastogi, Managing Editor
Curran Rastogi is a Managing Editor for the Wessex Wire. He runs cross country in the fall and plays golf in the fall. Fun Fact: He met Devin McCourty and Logan Ryan in a hotel lobby.