'American Horror Story' title tease makes a splash
On March 19, FX's "American Horror Story" creator and director Ryan Murphy announced the title of the show's 10th season, which is revealed to be called "Double Feature." Murphy made the announcement on social media accompanied by a short video trailer containing waves on a beach and the message "two horrifying stories…one season. One by the sea…one by the sand," Murphy then elaborated on this message in an Instagram comment: "It means TWO SEASONS for the fans airing in one calendar year! So double the viewing pleasure." This means that the season will be split into two mini-seasons for the price of one. The release date has yet to be confirmed, but many can hope for a 2021 release date.
For those that don't know, each "American Horror Story" season is a completely new frightening tale accompanied by the same cast playing different characters. "Double Feature" is implied to be more darker than its precursor, "1984", which took a darker comedic take on classic 80s slasher films. "Double Feature" is formatted similarly to season 6, "Roanoke", where the first half of the season was filmed as a paranormal documentary titled "My Roanoke Nightmare", and the second half was filmed as found footage from the documentary's sequel. 
As for the cast, Murphy only revealed the "sea" cast to be Sarah Paulson, Evan Peters, Angelica Ross, Adina Porter, Leslie Grossman, Billie Lourd, Lily Rabe, Finn Wittrock, Denis O'Hare, Frances Conroy, Kaia Gerber, Spencer Novich and Home Alone actor Macaulay Caulkin. The "sand" cast has yet to be revealed. 
The cast is very excited to say the least about the new season 10. Sarah Paulson dropped hints (or a joke) on a podcast with Murphy about the possibility of aliens being a factor. Back in August, Murphy posted a picture of sharpened teeth which announced the filming of "AHS 10". Many believe the creature depicted on the poster to be either a water-based monster (such as a killer mermaid) or an alien (in my opinion, I think killer mermaids are more viable). On the other hand, Sarah Paulson's alien joke could have been a tease to the new spinoff series "American Horror Stories," a series of one-hour episodes depicting a new frightening tale which is set to be released exclusively on FX on Hulu. 
As for cast excitement, Lily Rabe had this to say about her character in an interview: "I can say that the person I'm playing on this season is nothing like anyone I've played on the show before, and I am having such a wonderful time with her and with my fellow actors. I love this season. I love this season. I think new fans of the show will love this season, but the longtime fans of the show, I just can't wait to share this season with them. There's something about it – I wish I could say more." If this statement doesn't get fans hyped, then nothing will.
Fan reception has been generally positive and production seems to be running smoothly (as smoothly as filming during a global pandemic can go). I have high hopes for this season based on the promos and teasers. As an avid "AHS" fan, I am very excited to see how this season will play out and I am sure other fans are just as intrigued.
Behind the Byline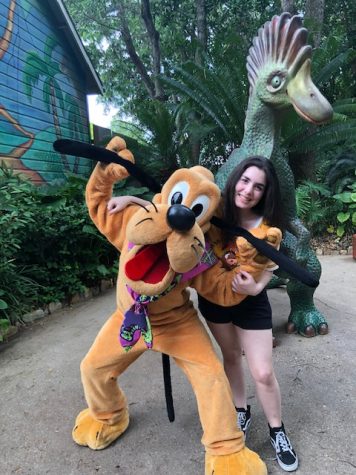 Catherine Khitiri, Senior Chief Visual & Social Media Editor
Catherine Khitiri is a junior at West Essex and a lead Arts and Cultures Editor for the 2020-2021 Wessex Wire school year.  She is a part of the Masquers of West Essex in both the fall dramas and the spring musicals, as well as a member of the Key Club, Cooking For a Cause, Chordettes, and the Varsity Dance Team. In her free time, she enjoys playing volleyball and singing.