REVIEW: Grammy winners earned their awards (mostly)
The 63rd Annual Grammy Awards took place on March 14. Ever since the show, there has been a lot of mixed emotions about which artists walked home with an award and which artists didn't. Yes, each and every artist deserves to win a Grammy, but this year was one of the most competitive years in music, so it's hard to select the real winner. 
Record of the Year
Winner: "Everything I Wanted"-Billie Eilish
Billie Eilish deserved this award. This song became a hit the instant it was released on Nov. 13, 2019 and has stayed on the charts ever since. For only being 19 years old, Eilish has taken the world by storm, especially this past year. She has recently released multiple hits, such as "Therefore I Am" and "My Future", and she definitely deserves to walk home with everything she wanted. 
Album of the Year
Winner: "Folklore"-Taylor Swift
I believe that Taylor Swift earned this award. Her album "Folklore" was extremely different from her previous records, and we got to see a side of Swift that we have never seen before. Taking on more of an indie style, Swift's album was calming and just what everyone needed last year. Taylor never disappoints us with her albums, and deserved to take home her 11th Grammy for this masterpiece. 
Best New Artist
Winner: Megan Thee Stallion
After taking the world by storm with her hit single "Savage", Megan definitely earned this Grammy. With over 30.5 million monthly listeners on Spotify, she has changed the rap game and became one of the most popular female rappers overnight. I also believe that Doja Cat deserved this award, with her hits like "Say So" and "Streets" she has risen to fame and is in the spotlight. However, Megan Thee Stallion truly took over this year. 
Best Pop Solo Performance
Winner: "Watermelon Sugar"-Harry Styles
All I have to say is-Harry. Deserved. A. Grammy. "Watermelon Sugar" was the sound of the summer and is still a hit. This song was one of the most popular singles of 2020, and Harry worked hard for this. His performance of "Watermelon Sugar" at the award show further proved that this award was rightfully given. With his lively rendition of the song, Styles got the audience on their feet and proved he truly is a Grammy-winning artist. 
Best Pop Duo
Winner: "Rain on Me"-Lady Gaga and Ariana Grande
Frankly, there were not too many pop duos/groups that really took over this year. Honestly, I'm not too sure about this award. Yes, "Rain on Me" was a huge hit this year, but I don't think the song was Grammy worthy. Ariana and Gaga are both the most iconic and influential women in music of this generation, but this song was not their best. For these reasons, I don't agree with this win. 
Best Pop Vocal Album 
Winner: "Future Nostalgia"-Dua Lipa
Dua Lipa is easily going to become the next big pop artist. She has released multiple hits this past year, such as "Don't Start Now" and "Levitating". Her '70's disco inspired album "Future Nostalgia" was iconic and boosted her fame, rightfully so. This is only the beginning for Dua Lipa, but I see a lot more Grammys in her Future (Nostalgia). 
The Grammy's this year were definitely interesting, but overall a pleasant surprise. Each and every artist that was nominated fully deserved to win. After all that has happened this past year, it was comforting to be able to watch live performances and see the award show again.
Behind the Byline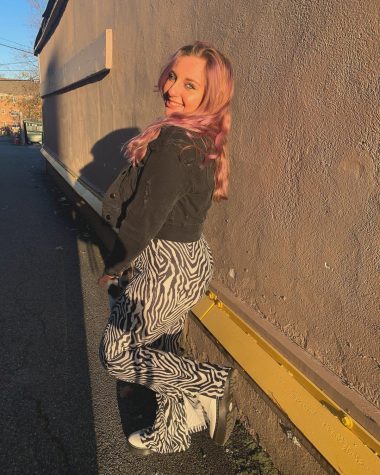 Ally Uhlendorf, Lead Features Editor
Ally is a lead features editor for the 2020-2021 Wessex Wire staff. She has a love for writing and reporting, especially in Features and Arts & Culture. In her free time, she is either singing, listening to Harry Styles, or hanging with her friends. Fun fact: If you get her a caramel iced coffee from Dunkin she will love you forever.