Grab your spaghetti tacos: 'iCarly' is coming back in 5, 4, 3, 2…
It's official! The hit Nickelodeon show that ran from 2007 to 2012 is set to have a revival exclusively on Paramount+, featuring actors such as Miranda Cosgrove (Carly), Jerry Trainor (Spencer) and Nathan Kress (Freddie). The three stars had a mini-reunion on the Nickelodeon Kids' Choice Awards red carpet on March 13. The trio talked about the reboot to a virtual audience. No official release date has been announced yet, but fans can expect to watch the "iCarly" reboot in late 2021 or early 2022. 
"We need to celebrate! I'm thinking balloons, fireworks, T-shirt cannons, confetti in the shape of our faces and then we throw an all-night pizza party paid for by someone else," Trainor said on the award show stage. 
Cosgrove, Trainor and Kress are the only names confirmed to reappear. Major characters such as Jennette McCurdy (Sam) and Noah Munck (Gibby) are missing from the cast list. McCurdy has previously stated that she has moved on from "iCarly," stating that she underwent eating disorders, abuse and depression while filming the show. A reboot would only trigger unhappy memories. McCurdy has since retired from acting and is focusing on filmmaking.
"Hellish, I think, is not too intense of a word," McCurdy said when describing her experiences on "iCarly" on an episode of the "Empty Inside" podcast.
Munck on the other hand is currently committed to his role on "The Goldbergs," which will probably prevent him from returning as Gibby, although fans have been buzzing about his return. Many believe that the show's creators will lure him in considering he was the comedy relief character.
So what is the "iCarly" reboot even about? According to a report from DiscussingFilm, the show will take place 10 years after the events from the original series. The show and its themes will be slightly more grown-up than the Nickelodeon version. The show is catering to the older fans that grew up with the original show. It will not be focusing on Carly becoming a social media star, but rather her exploring her twenties alongside her friends and family. 
Sam's character has reportedly been replaced. Whether her personality will compensate for Sam's is a mystery. The reported "mystery character" is Carly's new best friend and roommate. She is described as a pansexual character who dreams of becoming a fashion stylist after her family lost all of their money. This character's name is not yet revealed.
Another character featured will be Freddie's step-daughter. She is described as social-media obsessed who sees Carly's web show show as washed up as well as a competition for her smaller YouTube channel. This character's name is also not yet revealed. 
Filming has just begun on the revival, so a late 2021 or early 2022 release date is very likely. The reboot was one of the first shows announced on the new Paramount+ streaming service, which is a rebranding of CBS All Access. The expansion of CBS All Access was announced in late 2020, making Paramount+ a rival to services such as Peacock and HBO Max. This means that the "iCarly" reboot will realistically be out in late 2021 or early 2022, which will make Paramount+ an even bigger rival. 
Behind the Byline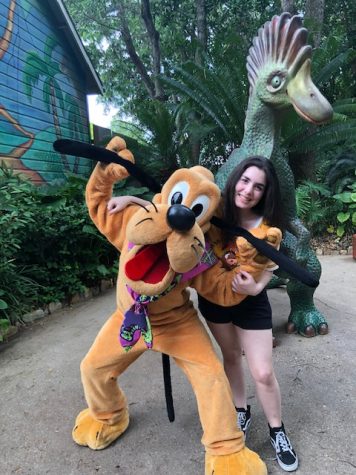 Catherine Khitiri, Lead Arts and Culture Editor
Catherine Khitiri is a junior at West Essex and a lead Arts and Cultures Editor for the 2020-2021 Wessex Wire school year.  She is a part of the Masquers of West Essex in both the fall dramas and the spring musicals, as well as a member of the Key Club, Cooking For a Cause, Chordettes, and the Varsity Dance Team. In her free time, she enjoys playing volleyball, singing and watching Netflix.