'Framing Britney Spears' documentary shocks with truths behind pop star's downfall
Credited as the artist who influenced the revival of teen pop throughout the 1990s and early 2000s, Britney Spears was idolized by many kids and young adults early in her career. Earning herself the title "Princess of Pop," Spears' first hit single "Baby One More Time" went multi-platinum meaning she got over 1 million sales in several countries. Immediately captivating the eye of the public, Spears became an icon.
On Feb. 5 2021, Hulu and FX released a documentary, "Framing Britney Spears'," which explains the story of Spears's career. Her dreams to make it in the entertainment industry began with her being a small town girl from Kentwood, L.A. Her family's lack of wealth proposed obstacles as she lacked the luxury of being able to easily fly to New York City, the hotspot for children in the arts at the time. In addition, her dad, Jamie, struggled with alcoholism and was uninvolved in Britney's life as a kid, therefore had no interest in supporting her. Contrary to Jamie, Britney's mom, Lynn, wanted to do  as much as possible to help. Taking the train for Louisiana to New York City, Lynn brought spears to the Big Apple to look for opportunities. Eventually landing her first role on "The Mickey Mouse Club," the entertainment world's eyes glued to the pretty and preppy teenage girl who appeared on their screens. 
However, Spears's big break came when her manager Lou Pearlman helped her record and release her first song, "Baby One More Time," which became an instant hit. From here, Spears's career began to soar and her fanbase continued to grow.
Similar to many artists, Spears embraced her newfound fame, the paparazzi and attention that came with it. When Britney announced she was dating Justin Timberlake, the public was captivated by their relationship.  Capturing the hearts of many Americans, Spears and Timberlake were viewed as the Justin and Selena of their time. However, after Timberlake recorded a music video based upon his claim Spears had cheated on him, she received negative press and backlash from fans. This was the start of her demise. 
Although Spears never confirmed she cheated, her breakup with Timberlake caused many parents to question whether they wanted their child to continue to look up to Spears. Her provocative clothing, excessive public partying and her new relationship struggles furthered parental concerns. Adding to the drama, paparazzi and show hosts would aggressively confront Spears directly with these issues when she was on their show. Having breakdowns on live television, Spears began to receive even more hate and criticism from people, causing the star to make some questionable decisions.
"Framing Britney Spears" provided an undeniable wakeup call to modern audiences, who know Britney but didn't know the full story behind her rise and fall. A main take away from the film exposes that  paparazzi are so quick to forget that these vulnerable stars are people too. Instead of leaving Spears alone during times of weakness, they were enjoying her slip ups as it gave them content to expose.
Kevin Federline and Spears Family Drama
Quickly moving on from Timberlake to Kevin Federline, Spears appeared smitten over her new boyfriend after just a few months of dating. After around four months of dating, the couple announced their engagement, and were married by late 2004. Spears and Federline had two boys together and it was clear that both Spears and Federline would protect and love their sons endlessly. However, Spears's party past and inappropriateness caused people to question her ability to be a good, responsible mom. These concerns didn't reveal Spears's innate motherhood, but it actually caused her to spiral out. She appeared offended and hurt that so many questioned how she had taken care of her two boys, that it ended up causing her to return to a party scene to mask her frustration. After endless breakdowns and inconsistent behavior, Federline filed for divorce in 2007. However in the divorce, Spears filed for sole custody. Making their divorce process exhausting and complicated, Spears continued to spiral downward. In the end Federline was granted custody while Spears was given visitation rights. 
The court's decision caused Britney to rebel, leading people to further question her. Attacking paparazzi and their cars with an umbrella, partying with some of the biggest party girls like Lindsay Lohan, estranging herself from her family, firing her long time manager and completely shaving her head are just a few things that Spears did which the public criticized enthusiastically. People were enjoying the unpredictability of Spears's behavior and found it to be entertainment. She became a laughing stock on game shows such as Family Feud and was a punching bag for the press. 
However, nobody decided to question potential mental health issues until one night where Spears refused to give her kids back to Federline. Federline allowed Spears to see her two sons, but once in her custody Spears appeared to barricade them in her home to prevent Federline from taking them back home with him. That night Spears was rushed to the hospital and placed in involuntary psychiatric evaluation, causing the media to reconsider what was really going on inside Spears's head. That Friday, Spears's visitation rights to see her kids were suspended by the judge, and soon became indefinitely removed. When Spears was taken to the hospital again later that month, January 2008,  Jamie filed for a temporary conservatorship over Britney.
The Conservatorship
Filing for a conservatorship is a very unique legal situation that usually applies to elderly people who are unable to take care of themselves or their money. In a conservatorship, the court gives someone else permission to make decisions on behalf of that person. Britney being under her dad's control is extremely unusual because she is both young and productive. In addition, Jamie was not interested in her career nor present in a majority of her life previous to this, so why did he now suddenly want to control her every move? People suspect it was the motives of money. 
Courts take conservatorships extremely seriously, as they are deciding whether to give another human control over someone else's life.  However, it took just one day after Britney was hospitalized, for the court to grant her dad a temporary conservatorship. This stunned people as Jamie was absent in most of her life and spent Britney's childhood drowning himself in alcohol rather than being a supportive and respectable influence. 
Surprisingly, Jamie was not just granted conservator of the person, but was also granted conservator of her finances and her estate. This gave him the legal authority to control Britney's every move and dictate where she performs, what she performs and what jobs/opportunities she could take. In addition, Britney was prohibited from driving, shopping, getting remarried, having children, making music or retiring without her dad's permission. Britney's voice in her career and life were silenced and she was now forced to live by her dad's choices. 
 A major consequence to the conservatorship was that Jamie actually received a portion of her money, so he based all of his decisions prioritizing money over his daughter. Any chance he saw for Britney to obtain money, he took regardless if it was in her interest.
As more information and secrets regarding Britney's life were exposed to the public, fans began what is known as the #FreeBritney movement. Finding it inhumane and unfair that Spears has been a puppet on her dads string for over 13 years, her supporters are using their voices to create awareness about the conservatorship and let Britney know that her fans support her, while simultaneously looking to persuade the courts into removing Jamie as her conservator.
#FreeBritney Takes Over the Internet 
Fans have been analyzing Britney's Instagrams, captions and actions to see if she has tried to slyly ask the public for help. One fan noticed that in one Instagram video she was working out with her boyfriend and in the video he aggressively mouths the word "smile" to her, and she quickly changes from what looks like an annoyed face to a smiley, happy one. In addition, another video on Spears's instagram that caught a lot of attention is a video of her pointing to something on her hat and then spinning the hat around. Although hard to truly decipher, a lot of fans took a screenshot of the post and analyzed what the hat said, which many believe says: HELP. 
Picking apart her Instagram lives to look for clues, fans who really jumped on the #FreeBritney movement began constructing more elaborate stories and finding more involved "coincidences." In one Q&A session with fans, Britney said her most asked question was "What is your favorite Disney movie?" This already felt like a strange "most asked question," which Spears answered with "Frozen." The next question she answered was what time do you go to sleep, which she said between 11:30-12:00. Fans linked these two answers: The digits from "11:30-12:00" convert into a film timestamp of 1:13:12. At 1:13:12 in "Frozen," Elsa says, "You have to tell them to let me go." Coincidence? #FreeBritney followers think not.
Even though the court hasn't made any adjustments to the conservatorship, the #FreeBritney movement has drawn global attention to the Spears family. Overtime, the discoveries and pressure these people will put on the courts could influence a decision to #FreeBritney.  Those convinced by the documentary insist the Princess of Pop has spent too long locked under her dad's control and deserves to claim her platform and life as her own. 
Behind the Byline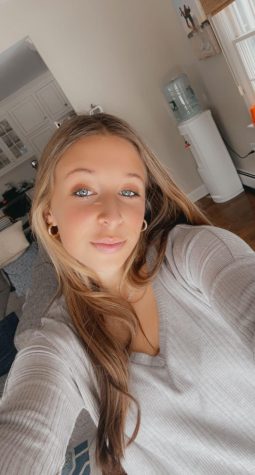 Remi Goldstein, Lead Sports Editor
Remi Goldstein is a Lead Sports Editor for the Wessex Wire. She loves to play soccer for the school in the fall and on her club team year-round! Remi also enjoys watching Netflix (especially Grey's Anatomy), hanging out with friends and listening to music!