Senior Service plans, threatened by COVID-19, stand in place
Despite the many challenges, delays and cancellations that so many high school traditions and events have faced this year due to COVID-19 safety restrictions, West Essex is doing its best to maintain the pace and intent of one of the seniors' mostly highly anticipated: Senior Service.
Program supervisors Toni Ann Zuppa and Patrick McGlynn say the school's plans are to conduct the annual volunteer program in a safe manner that sticks to tradition, despite a few changes. 
"It might look different and everyone knows that, I think all the seniors and the parents know that, but we are going to do our very best to make sure we have some sort of experience. That's our main goal."  Zuppa said. 
During Senior Service, seniors who qualify participate in a form of unpaid community service to give back and make a difference within their community before they graduate from high school. This service can range from helping out in local elementary schools or traveling to Florida to be a part of Give Kids the World program. These experiences are special to not only the senior class, but to the West Essex community as well. The Class of 2021 is hopeful that this experience will take place because they wish for some type of normality in their last year as Knights. 
Zuppa and McGlynn have been a part of the planning process for the Senior Service program for many years, and said that although COVID-19 has limited many usual traditions for this year, the senior service program seems to be standing strong. Zuppa explained that things will move differently than usual based upon the circumstances the pandemic has presented us with.
"Now that things are picking back up, we have to obviously follow protocols, distancing," Zuppa said. "We don't know who's going to take students and that's one thing we have to think about."  
Similar to last year, these programs will be taking place virtually with the exception of some being in-person, but still following COVID-19 protocols. The Class of 2021 is hopeful that Senior Service can give some sort of "normal" end to their high school years, and Zuppa said regardless of the few adjustments regarding virtual events, there will definitely be something in place. 
"We do make sure that if it is the remote option, the hours are less. Normally we have students do 25 per week at their volunteer place," Zuppa said. "If we do have a Zoom type of thing where students are assigned in that way, we are still trying to maintain that screen time. … We do not want to obviously have anyone burn out during this program, so that is another thing we have to think about too."
Behind the Byline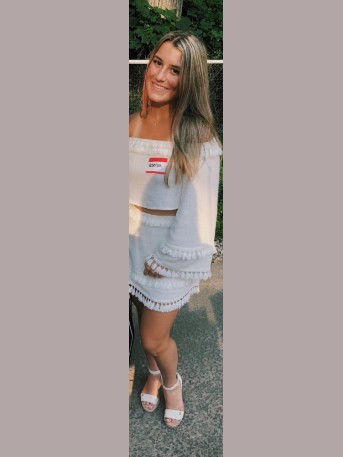 Rebecca Desiderio, Features Editor
Rebecca is a Features Editor for
the Wessex Wire. She is constantly playing field hockey, but when she is not you can find her at the beach or with her friends. She also loves spending her time traveling and finding new places around the world. Some of her favorite TV shows are Outer Banks and Gossip Girl.