Predictions for the 63rd GRAMMY awards
The 63rd annual GRAMMY awards were set to be on Jan. 31, 2021, but were ultimately postponed to March 14 at 8 p.m. EST due to COVID-19 concerns. Like any year, the GRAMMY nominations are set with the biggest up-and-coming artists and top hits of 2020. The nominations were announced through a livestream with past winners such as Dua Lipa, Imogen Heap, and Nicola Benedetti. Beyoncé was nominated for the most categories with a total of nine nominations despite not releasing an album this past year. Taylor Swift, Roddy Rich, and Dua Lipa came in second with six nominations each. 
Arguably the most anticipated categories are for the pop songs of 2020. Categories such as "Album of the Year," "Record of the Year," "Song of the Year," "Best New Artist" and "Best Solo Pop Performance" are filled with popular artists such as Doja Cat, Billie Eilish, Post Malone and Megan Thee Stallion. With so many amazings singers, it is hard to just pick one. For each of the pop categories, I will be listing each of the categories, nominees and my personal predictions for the 63rd Annual GRAMMYs.
ALBUM OF THE YEAR
"

Chilombo," Jhené Aiko

"Black Pumas (Deluxe Edition)," Black Pumas

"Everyday Life," Coldplay 

"Djesse Vol. 3," Jacob Collier

"Women in Music Pt. III," HAIM

"Future Nostalgia," Dua Lipa

"Hollywood's Bleeding," Post Malone

"Folklore, Taylor Swift" 
I in no way understand how the official voters for the GRAMMYs come to a consensus for the next winners. It could be based on lyrics, production, reception, or popularity, but personally I believe that Taylor Swift's "Folklore" falls into all of these categories. It is noted regardly as Swift's first "indie" album filled with nostalgic love songs on piano and acoustic guitar. Swift has been known for changing her style of music over the years, from country to pop and now to indie. The songs are very relaxing and soothing to the ear and the reception has been generally positive. For these reasons, I believe that Swift will take the win.
RECORD OF THE YEAR
"Black Parade" — Beyoncé

"Colors" — Black Pumas

"Rockstar" — DaBaby Featuring Roddy Ricch

"Say So" — Doja Cat

"Everything I Wanted" — Billie Eilish

"Don't Start Now" — Dua Lipa

"Circles" — Post Malone

"Savage" — Megan Thee Stallion Featuring Beyoncé
I remember when "Say So" first came out and I had it on repeat. It was the perfect song to just get up and dance to. It was all over the internet with over 280 million views on the music video. The music video incorporated its famous TikTok dance made popular by fans all over the world. This song has been on the Billboard Top 40 for weeks and has arguably been the most popular song. For these reasons, I believe that Doja Cat's "Say So" will win Record of the Year
BEST NEW ARTIST
Ingrid Andress

Phoebe Bridgers

Chika

Noah Cyrus

D Smoke

Doja Cat

Kaytranada

Megan Thee Stallion
Doja Cat has been climbing the charts for the past year with many other songs besides just "Say So." Some of her other hits include "Just Like That," "Cybersex," "Streets," "Freak," "Rules" and "Juicy" among many others. She quickly rose to fame circa 2019-2020 with her album "Hot Pink." Out of all of the artists nominated for this category, Doja Cat has risen to the top the fastest. Besides just her solo work, she has collabs with A-list performers such as Nicki Minaj, Ariana Grande and Megan Thee Stallion. She is hardly a one-hit-wonder and has many songs to come.
BEST POP SOLO PERFORMANCE
"Yummy" — Justin Bieber

"Say So" — Doja Cat

"Everything I Wanted" —  Billie Eilish

"Don't Start Now" — Dua Lipa

"Watermelon Sugar" — Harry Styles

"Cardigan" — Taylor Swift
I'm not just saying this as a Doja Cat fan, but I honestly think that she will take the win yet again for this category too. Every live performance I've seen of "Say So" was different from the rest. Whether it was different costumes, different choreography or even genre of music (such as the "Say So" rock cover), Doja Cat always brought her A-game. She does not just sing live, she guarantees a performance. 
BEST POP DUO/GROUP PERFORMANCE
"Un Dia (One Day)" — J Balvin, Dua Lipa, Bad Bunny & Tainy 

"Intentions" — Justin Bieber Featuring Quavo

"Dynamite" — BTS

"Rain on Me" — Lady Gaga with Ariana Grande

"Exile" — Taylor Swift Featuring Bon Iver
BTS is arguably one of the most popular boy bands of the late 2010's to the early 2020's. Their music videos rack in hundreds of millions to over 1 billion views each, and "Dynamite" is no exception with over 880 million views. "Dynamite" is a fun, colorful, dance song that was a great breath of fresh air from the dreadful year of 2020. K-pop groups are known for their intensive choreography performed live and in music videos. BTS performances are definitely show stopping, and "Dynamite" must be very fun to watch. For these reasons, I believe that BTS' "Dynamite" will take the win.
BEST POP VOCAL ALBUM
"Changes," Justin Bieber

"Chromatica," Lady Gaga

"Future Nostalgia," Dua Lipa

"Fine Line," Harry Styles

"Folklore," Taylor Swift
This category was the hardest to choose from in my opinion. I love all of these artists and they all have amazing albums, but in the end I decided to give my predicted win to Dua Lipa's "Future Nostalgia." Dua Lipa was another one of those pop stars that rose to fame seemingly out of nowhere. In 2017 she had a couple of hits such as "New Rules," "One Kiss" and "IDGAF." In 2020 she released her second studio album "Future Nostalgia" which was a bit of a stray away from her original songs which were very Top 40 radio pop (which is also not a bad thing). "Future Nostalgia" took inspiration from 70s disco, 80s synthesized chords and funky dance beats. It was quite the album for the new pop singer, and for that I believe that Dua Lipa's "Future Nostalgia" will take the win. 
Of course those are not all of the categories for the 63rd annual GRAMMY awards. I only listed some pop categories with A-list singers. Who knows what the actual award ceremony will hold, but for those that want to watch, it will be held on March 14, 2021 at 8 p.m. EST on CBS. For a full list of the nominees in each category (without my predictions), click here.
Behind the Byline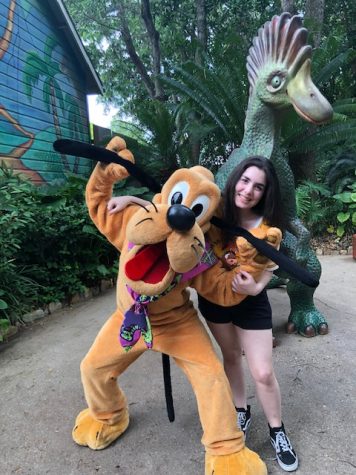 Catherine Khitiri, Lead Arts and Culture Editor
Catherine Khitiri is a junior at West Essex and a lead Arts and Cultures Editor for the 2020-2021 Wessex Wire school year.  She is a part of the Masquers of West Essex in both the fall dramas and the spring musicals, as well as a member of the Key Club, Cooking For a Cause, Chordettes, and the Varsity Dance Team. In her free time, she enjoys playing volleyball, singing and watching Netflix.