OPINION: Netflix removes numerous T.V. favorites
To start off 2021 Netflix removed multiple shows and movies leaving people confused and irritated. On January 1st, 2021, 48 shows and movies were removed from the platform, and a total of 67 were removed in the month of January. Some of these shows and movies included "The Office", "The Notebook", all three "Back to the Future" movies, "Pride and Prejudice", and "Gossip Girl." Here is a full list of all the movies and shows removed:
The Office: Seasons 1-9
The Notebook
Not Another Teen Movie
Airplane!
An Education
Anna Karenina
Baby Mama
Back to the Future
Back to the Future Part II
Back to the Future Part III
Bad Teacher
Barbershop
Being John Malkovich
Cape Fear
Casper
Charlie St. Cloud
Coneheads
Definitely, Maybe
Dennis the Menace 
Drugs, Inc.: Season 6
The Dukes of Hazzard
Eternal Sunshine of the Spotless Mind
Fargo 
For Love or Money
Frida
Gossip Girl: Seasons 1-6
Grand Hotel: Seasons 1-3
Her 
How the Grinch Stole Christmas
The Inbetweeners: Seasons 1-3
Indiana Jones and the Kingdom of the Crystal Skull 
Indiana Jones and the Last Crusade
Indiana Jones and the Raiders of the Lost Ark 
Indiana Jones and the Temple of Doom 
The Interview
Lemony Snicket's A Series of Unfortunate Events (2004)
Nacho Libre
Octonauts: Seasons 1-3
Poltergeist
Pride & Prejudice
Session 9
Splice
Starsky & Hutch
Superman Returns
The Town
Troy
WarGames
The Witches
Bloodsport
QB1: Beyond the Lights: Season 2 
Mara
The Monster
The Tudors: Seasons 1-4 
Mary Poppins Returns
Haven: Seasons 1-5
The Master
A Serious Man
Dallas Buyers Club 
Waco: Limited Series
Friday Night Tykes: Seasons 1-4
Fireplace 4K: Classic Crackling Fireplace from Fireplace for Your Home
Fireplace 4K: Crackling Birchwood from Fireplace for Your Home
Fireplace for Your Home: Season 
When Calls the Heart: Seasons 1-5
We Are Your Friends
Swiss Army Man
The Hundred-Foot Journey
Many people are outleting their frustration on social media. It seems like Netflix is trying to discard old or unpopular T.V. shows and movies that don't have as many streams so that they could replace them with better ones. However, not all of these selections are unpopular. In fact, movies like "The Notebook" and shows like "The Office" and "Gossip Girl" have recently been on Netflix's "Trending" or "Popular on Netflix" sections. So if Netflix is taking away some of the most well-liked classics, what are their ulterior motives?
When these selections got removed from Netflix, some went to other T.V. platforms including Peacock and HBO Max. Peacock offers a few seasons of "The Office" to anyone for free. After that, paying is mandatory in order to continue watching the other seasons, so watching the full show isn't an option without extra payment in addition to the Netflix subscription payment. 
Other shows like "Gossip Girl" got moved to HBO Max which requires a separate and more expensive subscription than Netflix. HBO Max is $14.99 per month for basic subscription, and Netflix is $8.99 per month for basic subscription. For most people, this isn't an appealing option at all. Before the removal, they could watch their favorite shows while soley paying for their subscription for Netflix. Now however, they have to pay for multiple subscriptions every month if they want to do that. 
This all sounds like a scam for money. If someone wants to watch their favorite T.V. show, they have to pay even more money now. What is the reason? Separating popular T.V. shows into multiple different T.V. platforms is forcing people to pay so much more than they used to for the same shows. And the truth is, not everyone can afford that. There is no purpose in removing and replacing entertainment media unless it was to make people spend more money.
Another plan that Netflix is enacting is the production of more Netflix Originals. Netflix Originals are shows that are made by Netflix and are only available to watch on their platform. They usually come out with one season at a time and if the show is successful, they release another season about a year later. This could be an alternative reason for removing old shows and movies and Netflix may be wanting to replace them with their own shows, and so far they have been pretty successful.
Netflix could be trying to replace old cable T.V. shows with their own, or they may be trying to get more money out of people. Honestly, for all we know it could very well be both. By giving their movies and shows to other T.V. platforms, the other platforms would be making more money because they now own more popular movies and T.V. shows. Netflix would also be adding more of their own stuff, which if done successfully, would make them a good deal of money as well. 
Regardless, people are angry and do not want to have to pay the extra money for favorite shows and movies. Hopefully Netflix lives up to its expectations of something great in the making to make up for its removals.
Behind the Byline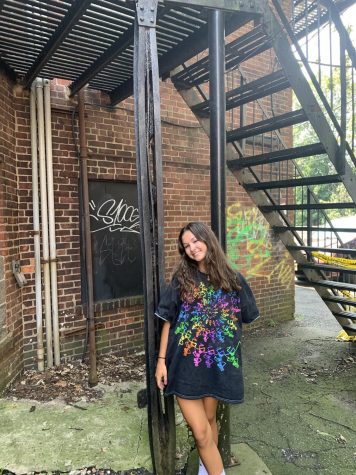 Roxanne Boychuk, Senior Chief News & Features Editor
Roxanne is the Senior Chief News & Features Editor for the 2021-2022 Wessex Wire. Roxanne enjoys playing volleyball in her free time as well as eating at Wendy's and watching crime documentaries. She also loves listening to good music and spending time with her friends. She's interested in news and features pieces. A fun fact about Roxanne: She is bilingual and speaks Ukrainian.