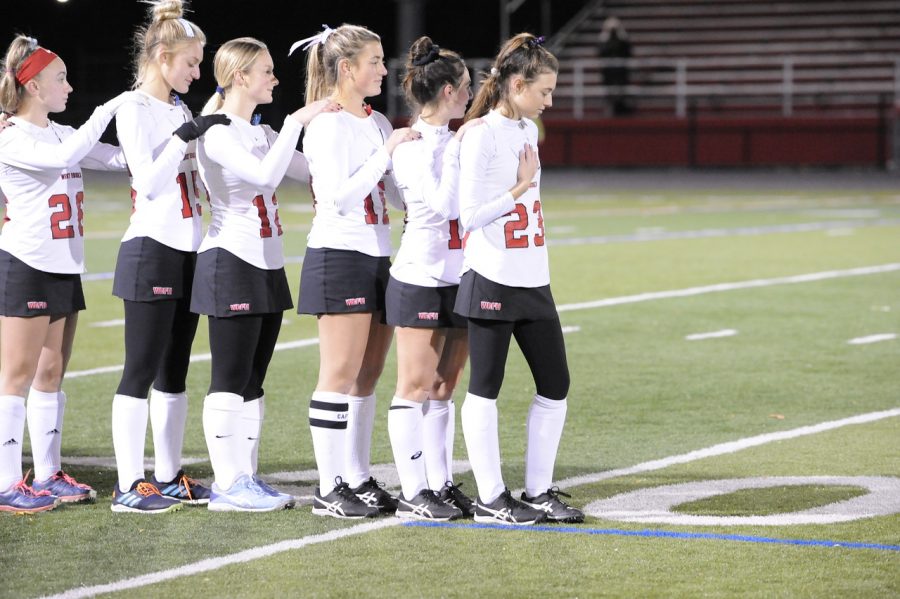 Seniors weather madness of a chaotic final season
The seniors of 2021 have been facing the toughest matchup this season both on and off the field: the common opponent COVID-19. The pandemic has not only brought a challenge to these athletes beyond the school environment but on their home turf.
Despite all of the uncertainty COVID-19 has created in the 2020 fall season, the one that impacted these athletes the most was the brief pause of their seasons. Senior field hockey player Corinne Kessler has embraced the life lesson that you can never take something for granted especially during times like these. 
"It really didn't hit me at first that we would be out for two weeks but once it did it taught me how important it is to take every moment you get on the field especially during times like these you don't know how long it's going to last" Kessler said. 
The football Knights only had the opportunity to play one game before the two week quarantine, so staying on top of their game was a priority. Senior football captain Chris Bell and his team trained in preparation for the remainder of their season both physically and mentally during those two weeks. 
"During this time, the team and I have been going to the gym, working out, going to the field, training and doing our plays to get ready for when we go back and play against Montville," Bell said.  
Even though this delay put a major mark upon the senior seasons for many, the teams from this experience have been able to come together for one reason: to finish their seasons strong. 
Senior tennis player Alexandra Lowenthal believes that despite everything COVID-19 has done to damage their seasons they can finish off strong together due to their hardwork and dedication. 
"I am really happy that sports are starting up again even though we missed so much of our season and chances of playing in counties," Lowenthal said "But just being together as a team and surrounded by others that are just as passionate about the sport makes up."
Even though COVID-19 has left its mark on the senior class of 2021, this group can only remain hopeful for the rest of their senior year regarding their sports seasons taking place and being able to finish off on the right foot.