The Horseneck Tavern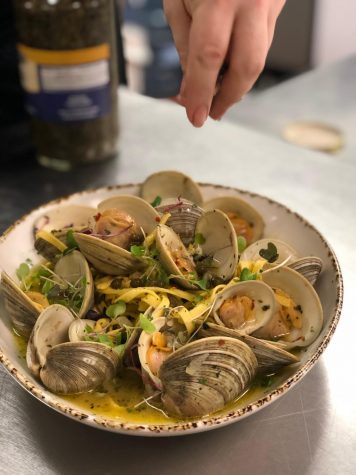 The Horseneck Tavern
11 Bloomfield Ave, North Caldwell, N.J., 07006
(973) 287-6850
Owned by the Faloni family, The Horseneck Tavern is transitioning out from months of takeout-only orders to outside seating only, but the restaurant's cozy, warm and inviting atmosphere hasn't gone anywhere, all the way down to the comfy indoor fireplace that adds charm and personality. The name comes from the "horseneck" tract of land from the Lenape Native Americans, purchased in 1702, that includes part of the present-day Caldwells. When viewed on a map, this area of land resembled a horse's neck — hence the name. Only a few staff members were able to work in the restaurant for a while, making cooking a bit harder, but currently the owners aim for more and more employees to respond to more returning patrons each day.
What makes your business unique as opposed to others? We have a beautiful restaurant here, that the owners have put a lot of time and love into creating a beautiful atmosphere for people. We have beautiful full red leather banquettes — perfect for social distancing. It creates its own barriers and sets our tables apart. 
How has your restaurant been affected by this quarantine so far? We completely shut down in the beginning, for a solid amount of time. We reopened about a month ago on the weekends for bar, takeout and packaged goods. Our regulars definitely missed us, and we definitely missed them. It affected us tremendously … but you've just got to stay positive.