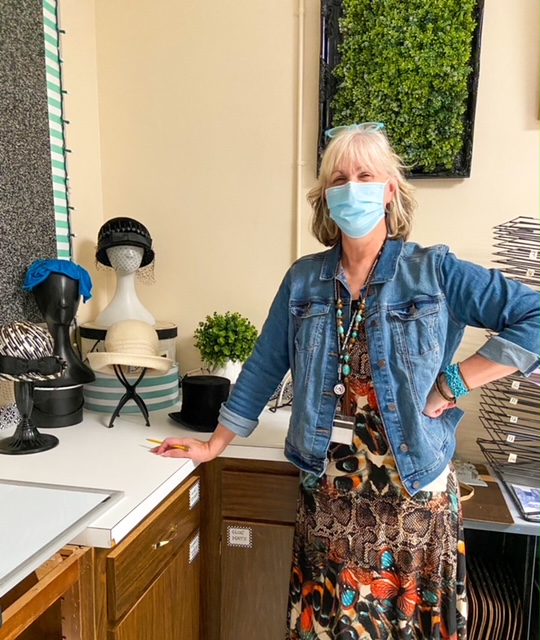 Staff photo by Molly Wolf
Creativity drives new art teacher's motivations
Experience drives creativity, and for new West Essex teacher Tracey Salvatore, being creative is the most crucial part of her work. 
"Creativity is so important in the arts," Salvatore said. "It is at the heart of all the exercises and projects that we do in both of my classrooms." 
The fashion design and studio art teacher said she hopes to display the importance of creativity in her classroom throughout her first year in the district. 
Salvatore got her undergraduate degree in fine arts and interior design from Kean University. Her associates degree is from Berkeley College of Garret Mountain in fashion and her masters in education is from the College of St. Elizabeth. Previously, Salvatore also taught fashion and fine arts at Randolph Middle School. 
 Fashion has been prevalent in Salvatore's life since childhood. Her favorite thing to do has always been to visit museums. Salvatore's interest in the subject began from the movies that she watched with her mother. 
"I just loved how clothing helped tell the stories of the characters and define the time periods they lived in," Salvatore said. 
Even growing up, Salvatore had an eye for fashion. She was interested in clothes in movies and even the old-timey fashion trends in the '50s and '60s and fashion which she learned about in history classes in high school. Her astounding ability to produce artwork and match outfits has carried Salvatore to where she is in her career today.
In her youth, Salvatore believed that she had an ability to match colors unlike others, like an eye for matching clothing. 
"My Mom said I had "Matchamatitus"…that is not a real thing," Salvatore joked, "but I really do think I might have it." 
Although this imaginative eye for fashion and matching clothes originated so early in Salvatore's life, she didn't actually begin to sew regularly until recently. Prior to her previous teaching job, Salvatore didn't sew. It was not until she had to actually teach sewing, that Salvatore was able to use this eye for fashion in her own creations. She herself improved and learned new skills, even as a teacher. 
"I had to go back to school to learn how to sew," Salvatore said, "so that improved my skills quite a bit." 
Salvatore uses these skills which she learned through her early childhood in her teaching today. Salvatore ensures that her students know to use their resourcefulness and imagination in all that they do, both in and out of the classrooms. She views art as a significant and inspiring adventure. This artwork can help to improve someone as a person as well. 
"Students are encouraged to create art that not only builds their artistic skills," Salvatore said, "but art that stretches their imagination and problem solving abilities." 
Experience might drive creativity, but for Salvatore, her creativity also helped fuel her own experience — which carried her through the early stages of her childhood, her college experience and her teaching career in which she was led to West Essex.