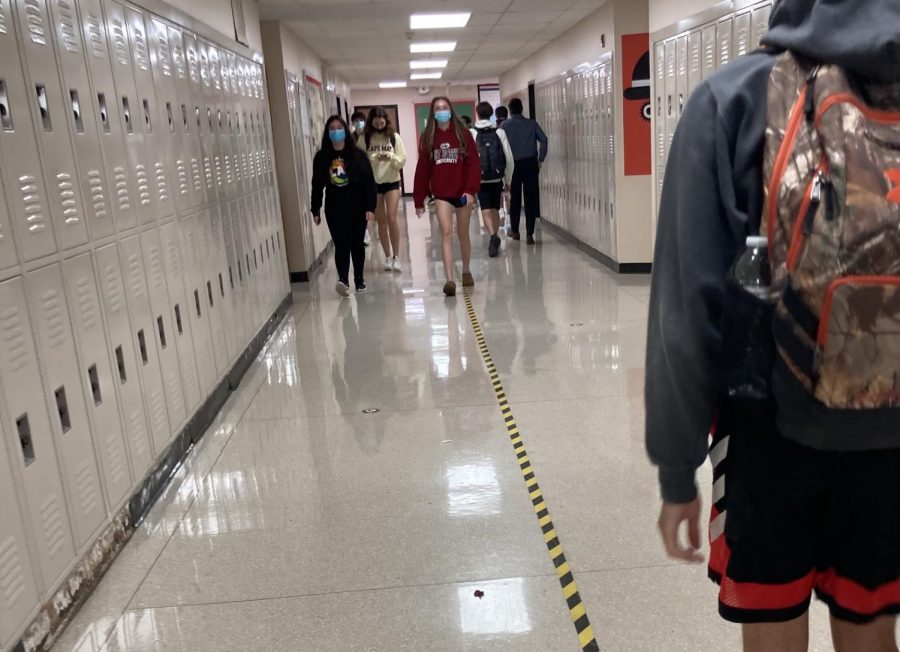 From virtual to in person, West Essex looks to return for the 2021-2022 school year
For students all around the nation, school this year and last year has not been an open book. The confusing schedules, virtual learning and social distancing are just a few of the altercations students had to adapt to. West Essex has taken measures to provide a safe, but effective school year such as ending the in-person school day at 12:17 p.m. so that everyone can have lunch at home and return to the last class remotely at 1:45 p.m. to ensure that they are sticking to the state guidelines concerning COVID-19. However, these changes have made for a completely unordinary school year. It wasn't West Essex's choice though, the CDC and pandemic left the administration no choice.
The light at the end of the tunnel seems to be approaching. The New Jersey COVID-19 Information Hub states that "As of March 17, 2021, the State expects that every school will be open, and every student and educator will be in their classrooms, for full-time in-person instruction for the 2021-2022 academic year." With that being said, what will learning at West Essex look like in the upcoming year?
At the Junior National Honors Society induction on May 6, Principal Caesar Diliberto announced that the long overdue return to a regularly scheduled "life before COVID-19" school day will be in action in the next school year. With this statement, students and staff at West Essex can keep their hopes up for the future of returning to life pre-pandemic. On May 28, Governor Phil Murphy lifted indoor and outdoor mask mandates for New Jersey with some exceptions, notably in schools. This has been the first taste of normalcy that a lot of Americans have been able to experience. For students and educators, however, it might be a different story. New Jersey schools are taking baby steps to return to normalcy. Because this raises questions about the terms and restrictions, Vice Principal Kimberly Westervelt and Assistant Principal Juliann Hoebee provided the minimum amount of information on a few specifics, as nothing is set in stone at the moment.
How long will masks and social distancing be enforced?
"The mask mandate is based on the governor and the mandates that come to us from the state… Public schools are still required to wear masks, but as [we've] seen in this past year, so many things can change quickly in the next four months."
Are we going to return to a regularly scheduled school day?
"Yes, five days a week. The current plan is to stay until 2:35 [p.m.]."
What is lunch going to look like?
"We are hoping that if all things are in the best possible scenario, lunch will look like how it has in the past unless they put some sort of distancing perimeters in for us, and then we are going to spend the summer planning that based on those perimeters. We definitely think they are going to drop the six feet [distancing requirement], but they may keep us at three feet. Then we have to figure out how to space the kids out appropriately during the space that we have for lunch. We may have to change it and not have a unit lunch, we may have to go to two lunch periods, we might have to go to three."
Is virtual learning going to be abolished as a whole?
"Allowing virtual learning this year was part of an executive order and as of now we are informed that the governor is expiring that executive order and that he does not plan to reinstate it for next school year."
Can seniors still have a driving partner to drive with to school?
"Yes, we will have driving partners. I think that what we stressed this year was that the students share a parking space, that does not mean that they have to drive with one another, but next year students will have to have partners. And that's based on the fact that we don't have enough parking spaces to give every student their own spot."
How do you plan to maximize classrooms to fit all students? Will there be satellite rooms?
"Fortunately most of our classrooms are able to accommodate the three feet social distancing protocol for the next school year. We plan on being able to fit all students in the classrooms."
Hope from the administration along with the everchanging CDC guidelines allow students to remain hopeful that the future of West Essex mimics the past. Figuratively, as Gov. Murphy tries to turn the clock back to 2019, West Essex students are optimistic that next year's school year will represent normalcy.
From virtual to in person, West Essex looks to return for the 2021-2022 school year