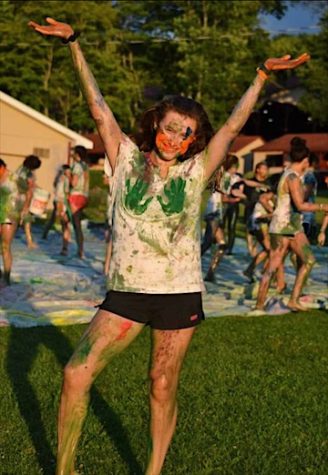 Amy Grunther works for The Wessex Wire. 
Amy loves performing on stage and singing. Her favorite activities include shopping, watching Glee and Supernatural and she has recently developed a Harry Potter obsession. Amy spends her time watching funny Instagram videos and goes on a three hour YouTube binge everyday.
Fun Fact: Amy wants to make the saying "Pura Vida" a thing in America.
Amy Grunther, Arts & Culture Editor
Jun 11, 2019

Graduating senior wows audiences with angelic voice

(Story)

May 22, 2019

Sleep-away camp creates best friends and lasting memories

(Story)

Apr 03, 2019

Rising trends spice up vacation looks

(Story)

Feb 22, 2019

Jordan Peele's "Us" trailer breakdown

(Story)

Feb 20, 2019

Arts commentary: Family vlogs exploit children and privacy

(Story)

Dec 10, 2018

Sabrina Spellman takes a dark turn in 'Chilling Adventures of Sabrina'

(Story)

Nov 28, 2018

California wildfire causes mass destruction

(Story)

Oct 30, 2018

Dads aren't always the coolest, but their sneakers are

(Story/Media)

Oct 19, 2018

How to have a festive Halloween night in

(Story)

Oct 15, 2018

YouTube careers prosper as the demand for videos increase

(Story)

May 31, 2018

The Tapes have returned in season 2 of "13 Reasons Why"

(Story)

May 18, 2018

Your makeup guide to the perfect 'Summer Night Out' look

(Story)

May 17, 2018

Broadway shows for Broadway haters

(Story)

Apr 20, 2018

Teens brainwashed into liking new trends

(Story)

Mar 02, 2018

Reduce phone usage with these tips

(Story)

Dec 19, 2017

Marino brings her saxophone skills to Turkey Day parade

(Story)