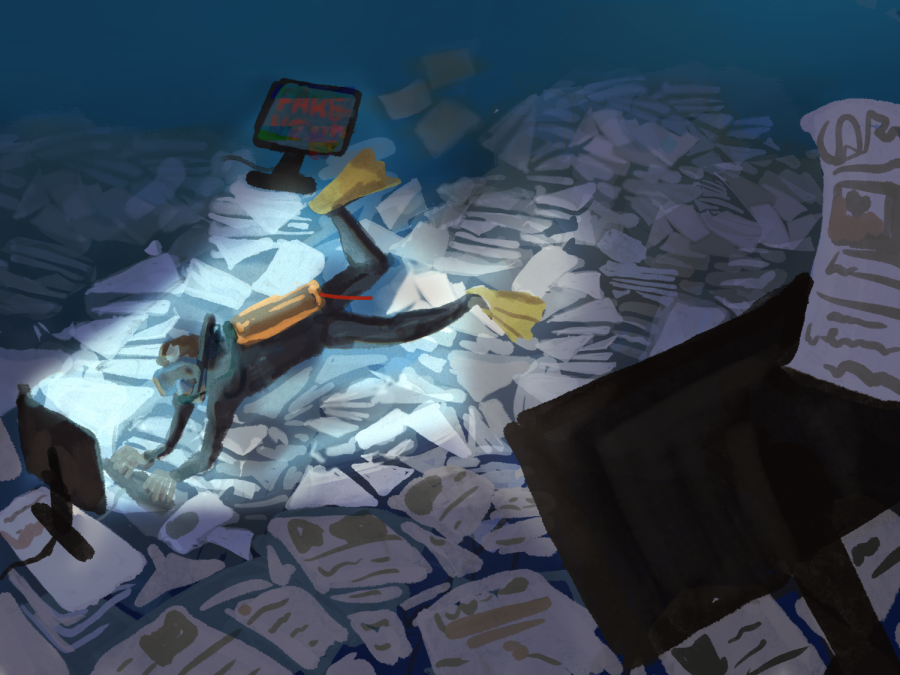 Illustration by Ava Buccino
NEWS COMMENTARY: Social media's fight to separate facts from fraud is confusing, but important
Present-day social media gives people direct access to a universe of possibilities to interact, entertain and inform the rest of society; although it emphasizes togetherness, social media maintains the worst influence on our opinions as individuals: the upkeep of fake and altered news. 
Social media's coverage of the 2020 presidential election maintains the teetering scale of accuracy and misleading information within the media. Falsified news is taking over and making it difficult to distinguish facts from fraud. Because of the widespread misinformation that floods modern media outlets, the importance of fact-checking is emphasized especially in the historical election that is unfolding today. 
We as a society are so reliant on media coverage, sometimes we don't even know if what we are reading is true. Within the snap-of-a-finger, content can be blasted through several media outlets, allowing us to potentially get twisted information fed to us. After seeing and sharing the information with no real truth behind it, one's personal opinions can be involuntarily altered, eventually changing their perspective on pressing issues. The usual diverging line between true and false now slowly meshes together because social media lacks some informational context and fact-checking requirements. 
Twitter recently implemented a system that labels tweets with potentially misleading or glorifying information to warn users that the post they are reading could be fake news. This happened because political concerns started to take charge on social media. According to a June 3 report from CNN Business, Twitter's new policy was put in place to provide more context for users; this is a step in the right direction. Facebook and Instagram similarly developed fact checking algorithms that use blocks, among other methods, that flag posts that computer systems or employees question, and later require a user to acknowledge that the post behind the block could contain false information. Company owners don't want the platform to be responsible for the outbreak of falsified information, but they still want users to use the platform freely. Giving readers a prior knowledge of whether or not a post is supported by factual information helps purify opinions by keeping the individual in the loop with the facts, and lessen the amount of false information spreading throughout politics and the media as a whole. 
Although it is impossible to totally diminish the influence of fake news on current social issues, learning how to navigate through the information found on social media is extremely important while forming opinions. Fact-checking platforms, like the AP Fact Check and FactCheck.org, are accessible spots that house the factual truth about much of the information spread in the media. Briefly researching ideas found on social media through these sites will prevent the upheaval of false accusations against people and parties, and keep society more in touch with factual content. Now more than ever, it is important to be able to distinguish between truth, fictional information and opinions; the fact-checking method is the best way to go about that.