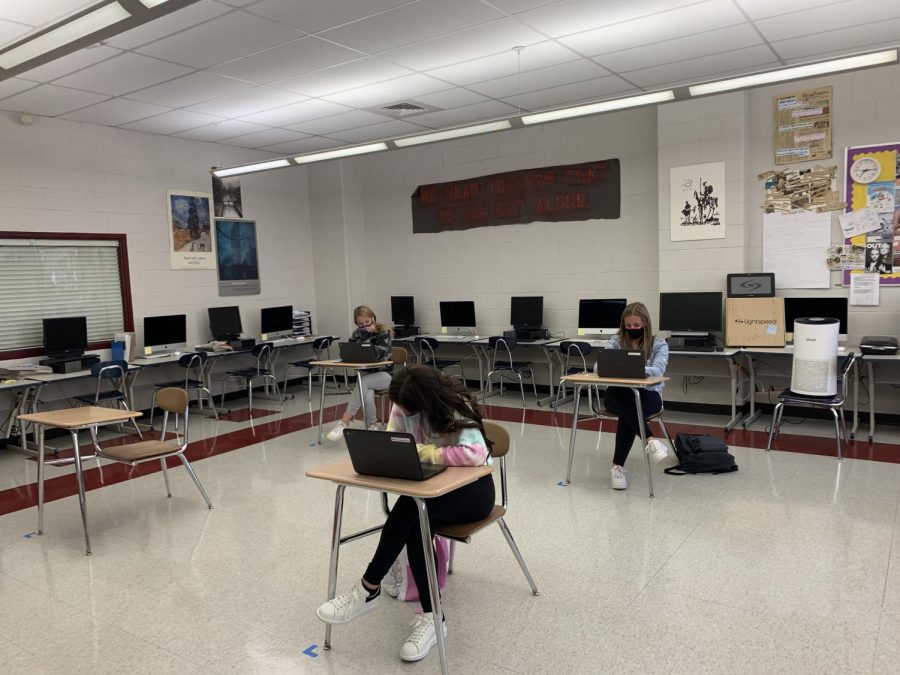 Lauren Snerson
As the anticipated date of Oct. 5 arrives today, students, faculty and administrators are anxious for the official start to the hybrid schedule. Students will have to adapt to daily temperature checks, teachers sitting behind plexiglass and limited, spaced-out desks in each classroom as they step foot in the building. Assistant Principal Kimberly Westervelt introduced some of the new procedures at West Essex and what students can expect on their first day this week.
"When you walk into your classrooms you will see that it looks different," Westervelt said. "When you first walk in, to either your left or your right, there's going to be hand sanitizer and hand wipes. … There's only at most 10 desks in the classroom [that] all face the same direction which comes from the CDC guidelines."
With temperature check lines in the morning, limited occupancy in the bathrooms and required masks all day, students and faculty will find a lot of "typical" routines very different than in years past.
"We do encourage mask breaks. Just like you would ask your teacher to go to the bathroom you would ask your teacher for a mask break," Westervelt said. "We are going to have teachers in the hallways watching our courtyards."
In line with the CDC official guidelines, students will need to be respectful of safety precautions and follow a new set of rules this year.
"We updated our code of conduct to include infractions that could possibly happen in virtual classrooms as well as infractions that could happen now, aligned with CDC guidelines. So if a student is wearing a mask that has something inappropriate, just as if it were a T-shirt or anything else, we would ask that you make an adjustment, Westervelt said. "This is not, oh I'll just get detention for it. No, you can't be in our building if you are not adhering to the safety rules."
Although about 10 percent of students have chosen to continue a completely virtual schedule, the high school will be filled to 33 percent capacity starting this week. 
The school administration reminded students that West Essex needs to work together as a community, now more than ever, as faculty, administrators and students all rely on each other to keep themselves and their families safe.
"Public health is a shared responsibility, so we have no choice but to trust that our community is doing their part," Westervelt said. "I just hope that everybody is doing their part to stay safe and healthy so that we don't have to have an incident where we need to shut back down."
In the school's reopening plan on the website, the administration says what will happen if there is a case in the district.
"If the school district becomes aware that an individual who has spent time in a district facility tests positive for COVID-19, we will notify local health officials, families and staff of a confirmed case while maintaining confidentiality," the frequently asked questions document said.
The school's hybrid schedule brings a lot of excitement to the district, but Westervelt said it cannot make up for missed time and normal in-person learning that students are used to. As a parent herself, Westervelt said she's far from blind to the impact and she understands that students are at a disadvantage.
"It is affecting our students, academically and socially," Westervelt said. "I can speak for my own children who are younger: I know that they are struggling academically because they are not in school everyday, so I feel it as a parent."
Although school will feel very different and the student body will not all be together, there's still a sense of excitement as students and staff will be back in the building for the first time since March. Westervelt shared this excitement as she awaited the first day back.
"I am most excited to just see students in the building walking around. I came into education because I love being around children," Westervelt said. "I love being around kids and so much of my day as an assistant principal is interacting with students so when they are not in the building, when you aren't here, it makes for a very long day."