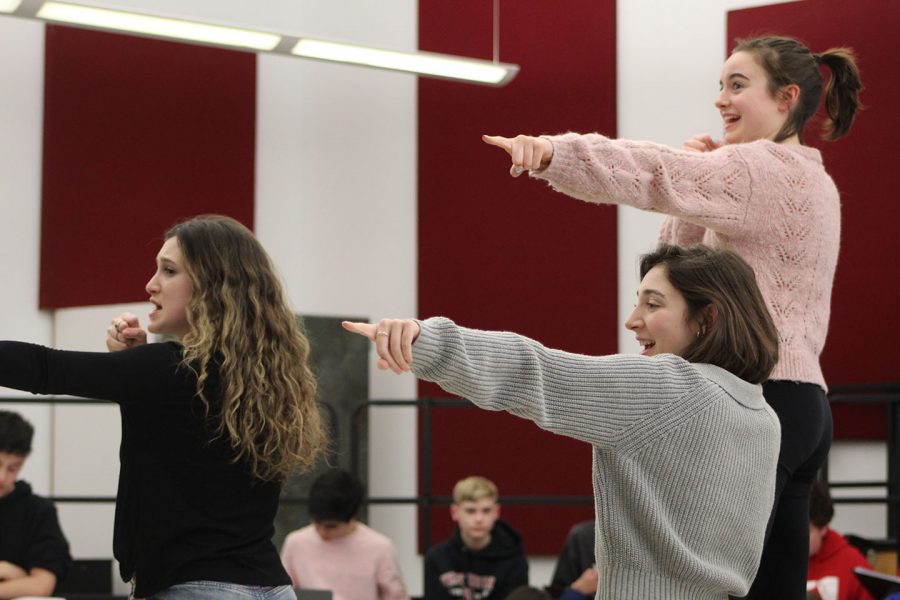 Photos courtesy of Bailey Winkler
Every spring, the auditorium is brought to life by a musical put on by the Masquers of West Essex. This year, Masquers theater director and English teacher Brittany Miller decided to get the audience dancing with "Mamma Mia!" the musical, based on the music of '70s pop supergroup Abba. Monday, Wednesday and Thursday starting at 3 p.m., the cast gathers in the auditorium and starts with a warm-up game to strengthen their quick thinking and inter-character relationships. During blocking rehearsals, Miller and the cast go through scenes together and mark their places. During vocal rehearsals, the cast spends time with the music director, Donna Mateyka, to go over the songs and make sure everything sounds perfect. 
"There are many different types of characters  from the hardworking mom, to the world traveling explorer, to the hysterical (and sometimes kooky) best friend," Miller said. 
After a tough audition process, the cast list was set: Sophomore Aidan Harn-Flood as Harry, senior Ashley Thomas as Sophie, senior Nick Stampone as Sam, senior Lily Patracuolla as Donna and sophomore Luke Miller as Eddie. Miller, who's been director of Masquers for three years, said that with such a huge production like "Mamma Mia," it can be tough to decide who should play what part. The auditions started with a dance audition, then acting and finally the vocal audition. Once the cast auditioned, Miller knew exactly who she wanted. 
"I always look for a lot of enthusiasm and excitement from the minute we get together for auditions. I work with all of the other members of the directing staff to determine which students work best for the different roles and parts we have available in each show," Miller said. 
So far, the cast is getting along nicely and working extremely well together, making rehersal go as smooth as possible.
"The cast has its ups and downs but we are definitely coming together," Patracuolla said.  "The cast is one big family!" 
Most of the leads in the show did not expect to get such a big role for this years' production. 'Mamma Mia' has a huge cast and getting a lead for the show can be difficult."As a sophomore, I was expecting an ensemble role or a smaller named role,  Harn-Flood said. 
" I'm very happy with the role I got," 
Along with Harn-Flood, Stampone and Patracoulla were also very excited when they saw that they got the main leads in the musical for their final show with Masquers. After many shows with the program, these two were finally rewarded with the leads in this years' show. 
"All the songs are going to make people want to get out of their seats and dance along with the music," Miller said. "The costumes are going to be bright, and there are some pieces thrown in that people might not be expecting!"
"It is an extremely fun show with an all-star cast, we really are working as hard as possible to make it the best show yet!" Miller said. 
Performances will be held in the high school auditorium from March 12-14 at 7 p.m. with a matinee on March 14 at 1 p.m.